I've tasted wines made from more than 200 different grapes. That's a nerdy wine brag, but let's look at Vermentino and I'll explain why it makes sense.
---
Thanks for your support!
• The 30 Wine Advisor is a reader-supported online community. If you enjoy these reports, please consider a paid subscription. You'll get twice as many reports, and you'll help keep us going! If you can't do it, though, don't worry. All are welcome to our basic edition, which will always be free.
---
First, trying wines made from different grape varieties (or combinations of varieties) helps us train our taste buds. Practicing the art of recognizing subtle differences in the color, flavor, taste and aftertaste of different wines helps us get more familiar with the wine itself and with the art of tasting.
This simple practice turns mere gulping into a hobby worth pursuing for its intellectual interest. If that level of wine geekery doesn't appeal to you, so be it. You certainly don't have to think about what you're drinking. But for me, and I think for a lot of us, the brain is the most important sensory organ we have.
What's more, and this matters in an age of $4 gas and $5 eggs: More often than not, wines made with unfamiliar grapes or grown in relatively undervalued terrain can offer real value. You don't have to pay a popularity tax in the form of higher prices that scarcity and a competitive marketplace bring.
This week let's take a look at Vermentino, a particularly enjoyable white grape that's grown in Western Italy and Southern France but that actually traces its roots to Corsica, where it is the most widely planted grape. Like a lot of less familiar grapes, it goes by a variety of monikers: Pigato or Favorita in Northwestern Italy, Rolle in Provence, and occasionally by the alternate name Malvoisie in Corsica and Sardinia.
Labeled as Vermentino, it's increasingly popular in the Costa Toscana region, a recently (2010) designated wine region along Tuscany's coast, where it makes a dry, acidic, and strikingly aromatic wine like today's featured item, Erné Costa Toscana Vermentino.
Organically farmed on sandy soil, this wine is fermented in steel tanks at low temperature and never touched by oak. It gains complexity from aging on its spent yeast lees for four months before being bottled. It stands out for its striking aromatics and fresh, mouth-watering flavors that make it a winner at a very reasonable mid-teens price. Try a Vermentino – this one if you can find it – and I think you'll be pleased.
Today's Tasting Report
Erné 2021 Costa Toscana Vermentino ($14.99)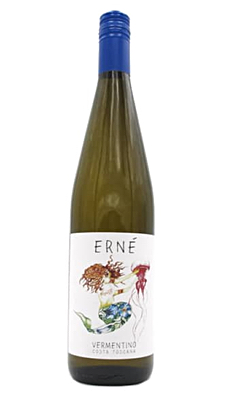 Clear bright gold in color and made entirely from the local Vermentino grape, Erné Costa Toscana Vermentino breathes delicious tropical aromas: A whiff of banana oil at first gives way to an appealing mix of peach, pear, and pineapple. Dry, medium-bodied, and briskly acidic on the palate, flavors follow the nose and add a zippy citric squeeze of lime. Subtle rocky minerality joins in the chorus in a very long finish shaped by mouth-watering acidity. 13% acidity. U.S. importer: Skurnik Wines, NYC. (Aug. 24, 2023)
FOOD MATCH: This dry, aromatic wine is a natural with the fish and seafood that's commonplace in its coastal region facing the Mediterranean's Tyrrhenian Sea. It's also good with mushroom dishes or simple pasta, like our choice, spaghetti with olive oil and lots of garlic.
WHEN TO DRINK: It's delicious now but isn't likely to benefit from aging. Drink it up and enjoy; the 2022 vintage is already coming into the market.
VALUE:
Wine-Searcher.com shows an $18 average U.S. retail, but it's widely available in the $15 range, at which point it's a very good value
WEB LINK:
Here's a fact sheet on the wine from importer Skurnik wines, and this link goes to Skurnik's article about Erne, the producer.
FIND THIS WINE ONLINE:
Check prices and find vendors for Erné Costa Toscana Vermentino on Wine-Searcher.com.
This Wine-Searcher link offers information about the Vermentino grape, with links to other wines made with this variety.
Follow this Wine-Searcher link to read about the Costa Toscana region and find listings for dozens of its wines.
Find the wines you want
Explore Wine-Searcher
Wine-Searcher.com is the place to go online if you want to find where to buy a particular wine that interests you. What's more, Wine-Searcher.com offers so much more. It's well worth a visit just to discover its many features, including its popular list of the world's Top 10 Best Value Wines.
Good wines we've tried under $10.99!
Want tips to still more good, inexpensive wines? Here are Wine-Searcher links to vendors and prices for a bunch more wines for $10.99 or less that I've told you about in recent years. In some cases the prices may have risen over the $10.99 mark since I reviewed them, but they should still be excellent bargains. Please tell us about your favorites!
Sponsor the Wine Advisor.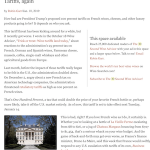 We appreciate your support
Support The 30 Second Wine Advisor and help us pay the rent while reaching 25,000 dedicated readers with your sponsorship message in this space, at the top of this E-letter, and on our social media. If you're an established business in wine, food, and similar ventures, there's no better way to focus your message toward an audience that comes here for just those topics. See our Sponsorship Page, or email Robin Garr for more information.
Wine Forum and Social Media
If you have questions, comments or ideas to share about today's article or wine in general, you're always welcome to drop by our online WineLovers Discussion Group, the Internet's first and most civil online community. Discussions are open for public viewing, but you must register to post. To request registration, please contact me at wine@wineloverspage.com, tell me your name, mention the Wine Advisor, and briefly say why you'd like to participate in the forum. Sorry about the minor red tape, but this is our simple, low-tech way to deter spammers and bots.
We'd also be delighted to have you visit and "like" our WineLovers Facebook Page. This way you can get Facebook notifications when there's a new The 30 Second Wine Advisor issue or a topic of particular interest on the WineLovers Discussion Group (WLDG).