Erné 2021 Costa Toscana Vermentino ($14.99)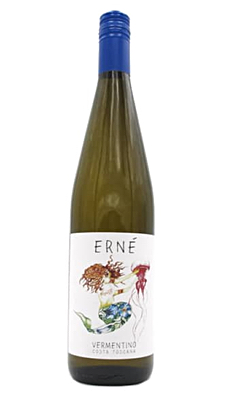 Clear bright gold in color and made entirely from the local Vermentino grape, Erné Costa Toscana Vermentino breathes delicious tropical aromas: A whiff of banana oil at first gives way to an appealing mix of peach, pear, and pineapple. Dry, medium-bodied, and briskly acidic on the palate, flavors follow the nose and add a zippy citric squeeze of lime. Subtle rocky minerality joins in the chorus in a very long finish shaped by mouth-watering acidity. 13% acidity. U.S. importer: Skurnik Wines, NYC. (Aug. 24, 2023)
FOOD MATCH: This dry, aromatic wine is a natural with the fish and seafood that's commonplace in its coastal region facing the Mediterranean's Tyrrhenian Sea. It's also good with mushroom dishes or simple pasta, like our choice, spaghetti with olive oil and lots of garlic.
WHEN TO DRINK: It's delicious now but isn't likely to benefit from aging. Drink it up and enjoy; the 2022 vintage is already coming into the market.
VALUE:
Wine-Searcher.com shows an $18 average U.S. retail, but it's widely available in the $15 range, at which point it's a very good value
WEB LINK:
Here's a fact sheet on the wine from importer Skurnik wines, and this link goes to Skurnik's article about Erne, the producer.
FIND THIS WINE ONLINE:
Check prices and find vendors for Erné Costa Toscana Vermentino on Wine-Searcher.com.
This Wine-Searcher link offers information about the Vermentino grape, with links to other wines made with this variety.
Follow this Wine-Searcher link to read about the Costa Toscana region and find listings for dozens of its wines.