Most of the words we use to favorably describe a good wine sound like an epicure's diary: "rich," "opulent," " bold," "intense," "elegant," even "hedonistic."
---
Thanks for your support!
• The 30 Wine Advisor is a reader-supported online community. If you enjoy these reports, please consider a paid subscription. You'll get twice as many reports, and you'll help keep us going! If you can't do it, though, don't worry. All are welcome to our basic edition, which will always be free.
---
So what's up with this French grape named Picpoul, whose name ("Pique-poul") literally means, well, "lip stinger"? This word seems different from all the rest.
As best I can tell, this grape, and Picpoul de Pinet, the wine that it makes in the Languedoc region of Southern France, gets its name because of its tart, bracing acidity. This happy zing is not hurtful but delicious. It's a characteristic that makes it a brisk aperitif and a fine accompaniment with the shellfish that abound in its home territory, a stretch of hillsides along the Étang de Thau, a sunny lagoon that lies along the Mediterranean shore.
Adding to its offbeat appeal, Picpoul de Pinet is the only appellation in Languedoc that makes only white wine.
Picpoul is also one of the 13 varieties permitted in Chateauneuf-du-Pape and the Southern Rhône; so it might turn up, usually anonymously, as part of a blend anywhere across France's Mediterranean coast and up the Rhone valley, where it has been cultivated for at least 700 years. Throughout this warm region, it has been prized – at least as a niche grape – for its ability to make an acidic, structured wine even in a hot climate that saps the acidity of many white grapes.
Picpoul comes into its own in Picpoul de Pinet, where it makes a white wine that's fresh, interesting, and yes, sharply acidic in a way that makes it food-friendly. And best of all, probably more due to its obscurity than its alarming reputation as a lip-stinger, it's generally affordable, available for a giveaway price that rarely exceeds $20 and often comes in for less than $10.
So give it a try, and don't be afraid of that fabled acidity: This wine is tart, refreshing, but not sour. It's nothing like sucking on a lemon or even encountering a salad with a tart vinaigrette. Join that with appetizing white-fruit and floral aromas and flavors that range from warm peaches and pears to zippy lemon-lime, and you've got an excellent white for all seasons and a good value. Like today's featured wine, Jadix Picpoul de Pinet. Here's my tasting report.
Today's Tasting Report
Jadix 2022 Picpoul de Pinet ($14.99)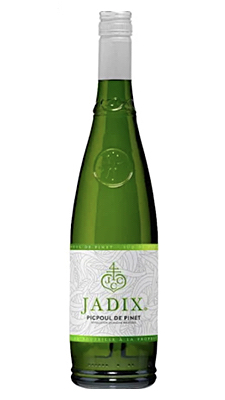 Made entirely from Picpoul grapes and designated vegan, Jadix Picpoul de Pinet shows a clear straw color in the glass. Delicious fruit scents mingle apple, pear, even a whiff of peach and a hint of juicy melon. All that good fruit carries into a briskly acidic flavor that's characteristic of Picpoul, and joins a citric lemon-lime zing that lasts in a long finish. Modest 12% alcohol makes it a fine summer sipper. U.S. importer: Aquitaine Wine USA LLC, Berkeley, Calif., A Jean-Christophe Calvet Selection. (Aug. 10, 2023)
FOOD MATCH: The back label suggests enjoying this wine as an aperitif or pairing it with vegetables, white meats like poultry, or mild white fish like cod.
WHEN TO DRINK: This is a wine to be drunk up young and fresh. The 2022 vintage is now in the market; choose it if you can, although other recent vintages will still be more than palatable.
VALUE:
This crisp, intense dry white is a fine value at Wine-Searcher.com's $15 average U.S. retail and is widely available for a few dollars less.
WEB LINK:
You'll find limited information on this product page from importer Aquitaine Wine USA.
You'll find information about Picpoul de Pinet at this regional page at Vignobles du Languedoc. Although it's only in French, it also features photos and maps of the region.
FIND THIS WINE ONLINE:
Check prices and find vendors for Jadix Picpoul de Pinet on Wine-Searcher.com.
Follow this Wine-Searcher link to learn more about the Picpoul de Pinet region, with links to dozens of other wines from the area.
This Wine-Searcher link offers background on the Picpoul grape, which is the hallmark of the Picpoul de Pinet region but is also grown throughout the Languedoc-Roussillon region in southwestern France.
Wine Focus August 2023 –
Benchmarks of Chardonnay
Our Wine Focus for August features Chardonnay. Is there anything new to say about Chardonnay? Do we really need to say anything? Perhaps climate change, and how Chardonnay is being affected is a worthwhile discussion. Warm years in Chablis, hailstorms, late frosts: The randomness of modern climate seems to just bring problems, rarely solutions.
So what is a fan of Chardonnay to do? Is the Sonoma Coast the new Chablis, even with completely different soils? What has happened to the variety's benchmark wines, beyond wildly escalating prices? We probably don't even need to open a bottle to have these discussions, but let's do that anyway! Join us in the WineLovers Discussion Group as we explore Chardonnay this month.
Find the wines you want
Explore Wine-Searcher
Wine-Searcher.com is the place to go online if you want to find where to buy a particular wine that interests you. What's more, Wine-Searcher.com offers so much more. It's well worth a visit just to discover its many features, including its popular list of the world's Top 10 Best Value Wines.
Good wines we've tried under $10.99!
Want tips to still more good, inexpensive wines? Here are Wine-Searcher links to vendors and prices for a bunch more wines for $10.99 or less that I've told you about in recent years. In some cases the prices may have risen over the $10.99 mark since I reviewed them, but they should still be excellent bargains. Please tell us about your favorites!
Sponsor the Wine Advisor.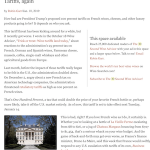 We appreciate your support
Support The 30 Second Wine Advisor and help us pay the rent while reaching 25,000 dedicated readers with your sponsorship message in this space, at the top of this E-letter, and on our social media. If you're an established business in wine, food, and similar ventures, there's no better way to focus your message toward an audience that comes here for just those topics. See our Sponsorship Page, or email Robin Garr for more information.
Wine Forum and Social Media
If you have questions, comments or ideas to share about today's article or wine in general, you're always welcome to drop by our online WineLovers Discussion Group, the Internet's first and most civil online community. Discussions are open for public viewing, but you must register to post. To request registration, please contact me at wine@wineloverspage.com, tell me your name, mention the Wine Advisor, and briefly say why you'd like to participate in the forum. Sorry about the minor red tape, but this is our simple, low-tech way to deter spammers and bots.
We'd also be delighted to have you visit and "like" our WineLovers Facebook Page. This way you can get Facebook notifications when there's a new The 30 Second Wine Advisor issue or a topic of particular interest on the WineLovers Discussion Group (WLDG).