Jadix 2022 Picpoul de Pinet ($14.99)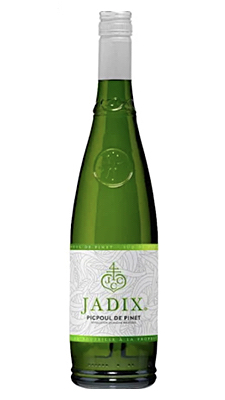 Made entirely from Picpoul grapes and designated vegan, Jadix Picpoul de Pinet shows a clear straw color in the glass. Delicious fruit scents mingle apple, pear, even a whiff of peach and a hint of juicy melon. All that good fruit carries into a briskly acidic flavor that's characteristic of Picpoul, and joins a citric lemon-lime zing that lasts in a long finish. Modest 12% alcohol makes it a fine summer sipper. U.S. importer: Aquitaine Wine USA LLC, Berkeley, Calif., A Jean-Christophe Calvet Selection. (Aug. 10, 2023)
FOOD MATCH: The back label suggests enjoying this wine as an aperitif or pairing it with vegetables, white meats like poultry, or mild white fish like cod.
WHEN TO DRINK: This is a wine to be drunk up young and fresh. The 2022 vintage is now in the market; choose it if you can, although other recent vintages will still be more than palatable.
VALUE:
This crisp, intense dry white is a fine value at Wine-Searcher.com's $15 average U.S. retail and is widely available for a few dollars less.
WEB LINK:
You'll find limited information on this product page from importer Aquitaine Wine USA.
You'll find information about Picpoul de Pinet at this regional page at Vignobles du Languedoc. Although it's only in French, it also features photos and maps of the region.
FIND THIS WINE ONLINE:
Check prices and find vendors for Jadix Picpoul de Pinet on Wine-Searcher.com.
Follow this Wine-Searcher link to learn more about the Picpoul de Pinet region, with links to dozens of other wines from the area.
This Wine-Searcher link offers background on the Picpoul grape, which is the hallmark of the Picpoul de Pinet region but is also grown throughout the Languedoc-Roussillon region in southwestern France.