A person walks into a bar and orders a glass of Chablis. What's the punchline?
There really isn't one anymore. You might have to be of a certain age to remember the days when "a glass of Chablis" meant an inexpensive generic domestic white wine.
---
A gift for you!
• Celebrating three months on Substack, I'm opening this week's paid-tier edition – my report on an excellent Chablis – to the entire community. Like what you see? Consider upgrading to our paid tier and join us every week! Already a paid subscriber? Thanks so much. You help make this happen. Click here to subscribe.
---
When I started writing a newspaper column about wine back in the 1980s, I couldn't mention Chablis without spelling out the difference between the cheap domestic stuff and the excellent, more expensive Chardonnay-based wine from Chablis, a satellite of the Burgundy region in eastern France.
The French were outraged by this act of vinous plagiarism, and rightly so. "The name "Chablis" has long been usurped and sometimes still is," the Vins de Bourgogne website tersely warns on its extensive Chablis and Chablis Premier Cru page. "Be forewarned: there is only one true Chablis, only from France."
Fortunately, times have changed. As Americans became more wine-savvy, "a glass of Chardonnay" became the bar call for a generic white wine that may or may not have been actually Chardonnay-based. And nowadays just about everyone knows enough to call for their simple glass of white wine by s varietal name, Chardonnay or Pinot Grigio or what have you.
Not only have customs changed as most of us learned more about wine, but labeling laws and international trade agreements have evolved as well. As the European Union evolved, it forged new rules and international trade agreements protecting the names of traditional European products like wine and cheese. In a 2006 pact, the U.S. agreed to prohibit the use of semi-generic European wine and place names like Champagne, Burgundy, Rhine, Chianti … and Chablis.
"Chablis is one of the most famous names in white wine, New York Times wine columnist Eric Asimov wrote in 2014, "so famous that after Prohibition, big American wine producers appropriated the name for their white wines, a practice that continues today with the cheapest jug wines."
Wait. What? Perhaps under political pressure from America's gigantic wine mass producers, a grandfather clause in the 2006 agreement allows for preexisting uses of these semi-generic names on wines made outside Europe. In other words, "Chablis" is forbidden (as well as a bit socially unacceptable) on most U.S. white wines. But pre-existing uses of these names were allowed to continue calling their semi-generic whites "Chablis."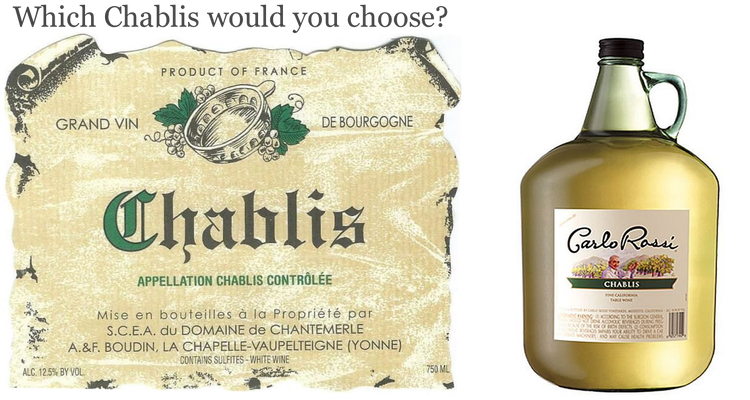 So mega-corporate labels like Livingston Cellars Chablis Blanc, Franzia Vintner Select Chablis, and Carlo Rossi Chablis in its classic 1.5 liter jug, are free to continue using or abusing the French name on these low-end table wines for prices that work out to $3 to $5 for a standard 750ml bottle.
I probably don't have to tell you that real Chablis costs quite a bit more. Scroll down to the end of Wine-Searcher.com's Chablis page to see its database of retail vendors and prices. Excepting a few outliers, Chablis in the U.S. ranges from the upper teens to the lower $90s. For a white wine of this quality, that's competitive.
Today's featured wine, Domaine de Chantemerle Chablis, cost me $27 at local retail, and it's well worth it, especially when I consider that I paid $24 for the 2005 vintage of the same wine in 2007.
It's a good basic Chablis. Pure and fresh, made with no oak as is typical for Chablis, it's an easy introduction to the type. Perhaps owing to warming climate, it's a bit on the full and fruity side, less austere than the traditional standard; but that clean, stony/chalky Chablis minerality comes through at the end. Here's my tasting report.
Today's Tasting Report
Domaine de Chantemerle 2021 Chablis ($26.99)
Domaine de Chantemerle Chablis is a clear bright greenish gold color. Delicious scent, apples and mixed citrus, lime and tangerine. Clean and fresh, dry and bright acidic flavors follow the nose, with stony-chalky minerality becoming evident in a long finish. There's no hint of oak in this pure, clean wine made with indigenous yeast and fermented and aged in stainless steel; modest 12.5% alcohol doesn't get in the way. U.S. importer: Skurnik Wines, NYC. (July 29, 2023)
FOOD MATCH: Shellfish, crab, and lobster are traditional pairings. It will go well with oysters, freshwater fish, and mild French cheeses, and surprised us with an unexpected affinity for pasta with a simple marinara sauce made from fresh garden tomatoes.
WHEN TO DRINK: Conventional wisdom suggests enjoying basic Chablis within two or three years after the vintage. It's delicious now, and there's no reason to hold it.
VALUE:
It's a good value at Wine-Searcher.com's $27 average U.S. retail.
WEB LINK:
Here's a detailed fact sheet from North Berkeley Imports, another distributor.
FIND THIS WINE ONLINE:
Check prices and find vendors for Domaine de Chantemerle Chablis on Wine-Searcher.com.
Learn about Chablis and its Chardonnay wines at this Wine-Searcher link, where you can find a range of wines from the region.
Find the wines you want
Explore Wine-Searcher
Wine-Searcher.com is the place to go online if you want to find where to buy a particular wine that interests you. What's more, Wine-Searcher.com offers so much more. It's well worth a visit just to discover its many features, including its popular list of the world's Top 10 Best Value Wines.