Every time I enjoy a really good wine from Alsace, I wonder why I don't choose this region's excellent wines more often.
---
Please subscribe!
The 30 Wine Advisor is a reader-supported online community. If you enjoy these reports, please consider a paid subscription. You'll get twice as many reports, and you'll help keep us going! If you can't do it, though, don't worry. All are welcome to our basic edition, which will always be free.
---
Maybe it's because the wines of Alsace are different. Different in a good way, but still. This picturesque stretch in France's far northeastern corner, where France and Germany meet along the Rhine, has been the source of conflict and changing domains all the way back to Caesar's time. From the Roman Empire against the Gauls and Germanic tribes to the Alemanni fighting the Franks, Merovingians and Carolingians; the Holy Roman Empire and the Habsburgs to both 20th Century world wars, this sought-after stretch of the Rhine Valley has been wracked by wars and fallen under different dominations for 2,000 years or more.
Now firmly French yet somehow Germanic too, Alsace's vineyards along the slopes of the wooded, gently rounded Vosges ("Vowzh") mountains produce wines that somehow evoke a sense of both France and Germany while firmly staking their place in Alsace.
Alsatian vineyards have been growing grapes and yielding wine for centuries, but thanks to that history of war and disruption, its modern trajectory as a reliable producer of high-quality wine only after World War II. Alsace finally received the Appellation d'Origine Contrôlée (AOC) status in 1962, according to the wine-business publication Seven Fifty Daily.
Only 13 years after that, SevenFifty Daily reported, Schlossberg was Alsace's first vineyard elevated to Grand Cru status. Two dozen more Alsatian vineyards had received that high status within the following eight years, the publication wrote in its Alsace information page, "setting the region on its path to the production of high-quality and distinctive wines that told the story of their terroir." Today the region boasts 51 vineyards designated as Grand Cru.
What makes the wines of Alsace special? It might be something about terroir. Alsatian wines often show the kind of intriguing minerality that adds complexity to a wine. Further, Alsatian wines at their best are intense, but it's a kind of intensity that you don't find in less interesting wines: It's a memorable combination of intensity and balance.
Alsace's wine idiosyncrasy may also have to do with the grapes that are grown there. Alsace is probably best known for its Riesling, which is commonplace in Germany but virtually unknown in the rest of France. In fact, despite its acclaim, Riesling makes up only about 21 percent of the vineyard acreage in this relatively small region, only 80 miles long and 10 miles wide.
Almost as much acreage is devoted to the aromatic Gewurztraminer, another wine that you're not likely to fine anywhere else in France; and Pinot Blanc and Pinot Gris. Wines made from all three of these white grapes show exceptional intensity – there's that word again – in the Alsatian terroir. Less familiar Sylvaner and Auxerrois are also grown, along with a splash of Muscat. Amid that flood of white wines, Alsatian Pinot Noir is gaining attention and critical acclaim, perhaps pushed by a warming climate that makes it a more reasonable choice in this northern region.
To learn more about Alsace and its wines, in addition to the SevenFifty Daily report linked above, another good source is Vins Alsace, the official publicity site of Conseil Interprofessionnel des Vins d'Alsace, the region's trade association (English-language pages). Wine-Searcher's Alsace page also sums up the region, along with links to many retail sources and wines of the region.
Today's featured wine, Kuentz-Bas Alsace Blanc, shows off the balanced intensity of Alsace in an intriguing blend of five regional grapes: Auxerrois, Silvaner, Riesling, Gewurztraminer, and Muscat. Widely priced in the teens, it's a fine value and an excellent introduction to Alsace. My tasting report follows.
Today's Tasting Report
Kuentz-Bas 2022 Alsace Blanc ($17.99)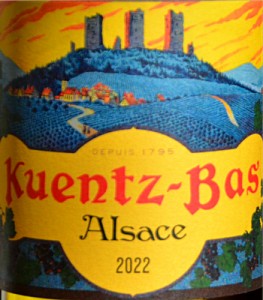 Appealing floral and citric scents of orange blossom, honeysuckle, and subtle fresh peppermint rise from the glass of Kuentz-Bas Alsace Blanc. A blend of 40% Auxerrois, 25% Silvaner, 15% Riesling, 12% Gewurztraminer, and 8% Muscat, it's a clear straw color.Those luscious floral notes carry over on the palate with brisk acidity wrapping up fresh white fruit – apples and pears – with stony minerality hovering in a long, clean finish. The back label uses pictographs to inform us that the wine is "sec" (dry) and best served at 50º F. 13% alcohol U.S. importer: Kermit Lynch Wine Marchant, Berkeley, Calif. (Nov. 2, 2023)
FOOD MATCH: Wine-Searcher.com suggests pairing it with duck, goose and game birds. It was a delicious match with Rancho Gordo Puglia lentils in a warm, thick soup, lenticchie brasate (braised lentils with fresh fennel) from the book Fagioli: The Bean Cuisine of Italy (Rancho Gordo Press, 2023), by Judith Barrett.
WHEN TO DRINK: It's ready to enjoy, but the producer notes that it may develop more complexity after three to five years of cellaring.
VALUE:
Wine-Searcher.com shows a $17 average U.S. retail price. It's definitely fairly priced in the upper teens, but the Wine-Searcher database returns a few retailers offering it at bargain rates as low as $12.40.
WEB LINK:
Here's a link to importer Kermit Lynch's Kuentz-Bas information page.
Here's an article about Kuentz-Bas on the winery website.
FIND THIS WINE ONLINE:
Check prices and find vendors for Kuentz-Bas Alsace Blanc on Wine-Searcher.com.
Follow this Wine-Searcher link to find links to vendors for Kuentz-Bas' full portfolio.
Learn more about Alsace from this Wine-Searcher page, with links to a variety of Alsatian wines and their vendors.
Wine Focus November 2023 –
Benchmarks of Riesling
It's finally time! Our Riesling-loving team has been waiting all year for Wine Focus for November: Benchmarks of Riesling.
So many memorable manifestations of this great grape! Mosel, Nahe, Pfalz. Does anyone still remember the Rheingau? How about Austria? Australia? Has anyone heard from Alsace lately? Open a bottle, take a note, and head for our WineLovers Discussion Group to talk about Riesling!
Find the wines you want
Explore Wine-Searcher
Wine-Searcher.com is the place to go online if you want to find where to buy a particular wine that interests you. What's more, Wine-Searcher.com offers so much more. It's well worth a visit just to discover its many features, including its popular list of the world's Top 10 Best Value Wines.
Good wines we've tried under $10.99!
Want tips to still more good, inexpensive wines? Here are Wine-Searcher links to vendors and prices for a bunch more wines for $10.99 or less that I've told you about in recent years. In some cases the prices may have risen over the $10.99 mark since I reviewed them, but they should still be excellent bargains. Please tell us about your favorites!
Sponsor the Wine Advisor.
Support The 30 Second Wine Advisor and help us pay the rent while reaching 25,000 dedicated readers with your sponsorship message in this space, at the top of this E-letter, and on our social media. If you're an established business in wine, food, and similar ventures, there's no better way to focus your message toward an audience that comes here for just those topics. See our Sponsorship Page, or email Robin Garr for more information.
Wine Forum and Social Media
If you have questions, comments or ideas to share about today's article or wine in general, you're always welcome to drop by our online WineLovers Discussion Group, the Internet's first and most civil online community. Discussions are open for public viewing, but you must register to post. To request registration, please contact me at wine@wineloverspage.com, tell me your name, mention the Wine Advisor, and briefly say why you'd like to participate in the forum. Sorry about the minor red tape, but this is our simple, low-tech way to deter spammers and bots.
We'd also be delighted to have you visit and "like" our WineLovers Facebook Page. This way you can get Facebook notifications when there's a new The 30 Second Wine Advisor issue or a topic of particular interest on the WineLovers Discussion Group (WLDG).