Kuentz-Bas 2022 Alsace Blanc ($17.99)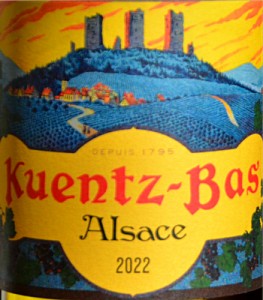 Appealing floral and citric scents of orange blossom, honeysuckle, and subtle fresh peppermint rise from the glass of Kuentz-Bas Alsace Blanc. A blend of 40% Auxerrois, 25% Silvaner, 15% Riesling, 12% Gewurztraminer, and 8% Muscat, it's a clear straw color.Those luscious floral notes carry over on the palate with brisk acidity wrapping up fresh white fruit – apples and pears – with stony minerality hovering in a long, clean finish. The back label uses pictographs to inform us that the wine is "sec" (dry) and best served at 50º F. 13% alcohol U.S. importer: Kermit Lynch Wine Marchant, Berkeley, Calif. (Nov. 2, 2023)
FOOD MATCH: Wine-Searcher.com suggests pairing it with duck, goose and game birds. It was a delicious match with Rancho Gordo Puglia lentils in a warm, thick soup, lenticchie brasate (braised lentils with fresh fennel) from the book Fagioli: The Bean Cuisine of Italy (Rancho Gordo Press, 2023), by Judith Barrett.
WHEN TO DRINK: It's ready to enjoy, but the producer notes that it may develop more complexity after three to five years of cellaring.
VALUE:
Wine-Searcher.com shows a $17 average U.S. retail price. It's definitely fairly priced in the upper teens, but the Wine-Searcher database returns a few retailers offering it at bargain rates as low as $12.40.
WEB LINK:
Here's a link to importer Kermit Lynch's Kuentz-Bas information page.
Here's an article about Kuentz-Bas on the winery website.
FIND THIS WINE ONLINE:
Check prices and find vendors for Kuentz-Bas Alsace Blanc on Wine-Searcher.com.
Follow this Wine-Searcher link to find links to vendors for Kuentz-Bas' full portfolio.
Learn more about Alsace from this Wine-Searcher page, with links to a variety of Alsatian wines and their vendors.