I know, I know. It seems way too early to start talking about the holidays. In this neck of the woods, at least, we're enjoying a sunny day in the 70s, with clear blue skies and only a few bright patches of autumn color breaking out among foliage that's still mostly summery green.
But, he said with a sob, the leaves will soon fall, the skies turn gray and the winds blustery. Winter will be here before we know it. It's only a month until Thanksgiving, and then the winter holiday season comes rushing toward us like a freight train. Specifically, the Polar Express.
It's not too soon to start thinking about all the good things that help sustain us through the season. Warm clothes, a fire in the fireplace. Winter sports, if you're a fan; and getting into the kitchen for warming enterprises, baking bread and roasting roasts and making other winter goodies.
It's no coincidence, I think, that some of our most joyful holidays – Thanksgiving in the U.S. (Canada's came earlier), then Hanukkah and Christmas, fall near the start of winter: They get us smiling before we head into the dark, drab days of January.
For wine enthusiasts, it's not too soon to start thinking about the holidays. With Thanksgiving Day just a month away, it's legitimate, I think, to begin anticipating the feast, the bill of fare, and not least, what we'll drink with the festive meal, especially if we want to order our wine online, allow time for shipping and a little more time for the wine to rest after its journey.
Will we open something special in honor of the occasion? Or go with wines more tried and true, letting the food be the focus of the feast with appropriate yet simpler wines to showcase and complement the platter at the center of the table?
Wine pairing can be a particular challenge for an American Thanksgiving, remember, because the festive array of flavors from roast turkey (light or dark?) to mashed potatoes, sweet potatoes, all manner of vegetables, cranberries, and gravy, of course, makes it mighty hard to summon just one wine to serve them all.
What are the most versatile, food-friendly wines? For whites, Riesling is hard to beat for versatility, with Chenin Blanc worth honorable mention. Among the reds, Zinfandel has its fans, not least for its special American heritage. But I'll go with Pinot Noir, particularly of the Bourgogne (Burgundy) heritage, for a reliable red that's good on its own and will work well with just about every flavor on the holiday table.
Bourgogne Pinot comes in a range of quality and price that can top out well into four figures for trophy bottles, and triple-digit price tags are common these days. But it's possible to get more generic Bourgogne Pinot that will satisfy and won't break the bank. Even if you think $20 or so is spendy for everyday, I suggest you plan Thanksgiving around something from Bourgogne: Perhaps this week's featured wine, Bouchard Père & Fils 2013 "Réserve" Pinot Noir Bourgogne, or its counterpart from the equally reliable Louis Jadot.
Today's Sponsor:
Perfect Pours for Thanksgiving!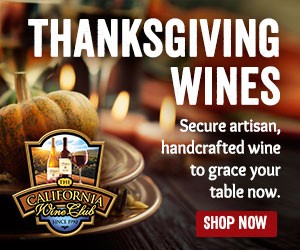 The variety of savory flavors in Thanksgiving feasts makes choosing wines to serve tricky. We suggest pouring several different wines to bring out the best in each delicious course.
Whites: Look for crisp white wines and dry Rosés. A clean, dry finish will refresh the palate between bites.
Reds: Pinot Noir and Merlot with medium tannins are excellent choices. Sangiovese is also a good pick and Zinfandel is a must-have to go with cranberries.
Dessert Wines: Digestifs and sweeter sippers are perfect to savor after the feast.
Shop Now for Perfect Pours for Thanksgiving
About The California Wine Club:
California is home to thousands of small family wineries handcrafting extraordinary wine in quantities too limited to be found in local stores or shops. Since 1990 it has been our mission to help these artisan wineries introduce their award-winning wines to wine lovers across the US.
Learn more.
www.cawineclub.com 1-800-777-4443
Today's Tasting Report
Bouchard Père & Fils 2013 "Réserve" Bourgogne Pinot Noir ($20.99)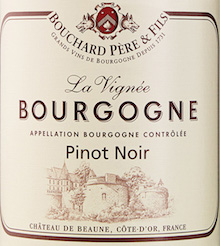 Clear ruby color, with bright reddish-purple glints against the light. Simple but fresh aromas, a gentle touch of black cherry and a hint of "tomato skin," that pleasant, tangy character that I often find in subtle-style Pinot Noirs. Mouth-watering and refreshing, simple cherry-berry fruit shaped by snappy acidity that lingers; stony minerality and a pleasant whiff of freshly ground black pepper when you swish the wine in your mouth. A simple wine, not to be mistaken for a high-end Burgundy, but it shows decent Bourgogne Pinot character at an introductory level for a fair price. U.S. importer: Henriot Inc., NYC. (Oct. 7, 2015)
FOOD MATCH: Beef is the classic match with Burgundy, from burgers to rare steaks to good roast beef. But it makes a surprising match with wild salmon, too, and meatlessly with mushrooms, which are perhaps its ideal pairing. It was very good indeed with a simple pasta dinner of mezzi rigatoni with an intense mushroom and garlic sauce, topped with grated Grana Padano cheese.
WHEN TO DRINK: Bourgogne will keep and, even at this simple level of wines sourced from grapes throughout the region, may evolve in a good cellar with surprising grace. Still, this wine is meant to be drunk up within three to five years from the vintage, and that's a prudent practice.
VALUE: Wine-Searcher.com returns $20 median U.S. retail, which is just about what I paid. It's fair in the current market, but I do miss the days when a simple Bourgogne Pinot Noir could be had for half this price.
WEB LINKS Click this link for the Bouchard Père & Fils home page.
FIND THIS WINE ONLINE:
Locate vendors and find prices for Bouchard Bourgogne Pinot Noir on Wine-Searcher.com.
To find Bouchard's wines around the world, use this form on the Bouchard web page.
We hope you'll "Like" us on Facebook!
If you use Facebook, we'd be delighted to have you "Like" our WineLovers Facebook Page. This way you can get Facebook notifications when there's a new The 30 Second Wine Advisor issue or a topic of particular interest on the WineLovers Discussion Group (WLDG).
If you're a Facebook user, you can also now join our forum with a single click! All you need to do is visit the forum and click the "Social Login" link at upper right.
Talk About Wine Online
If you have questions, comments or ideas to share about today's article or wine in general, you're always welcome to drop by our online WineLovers Discussion Group, the Internet's first and still the most civil online community. To find our forums, click:
Discussions are open for public viewing, but you must register to post. If you're a Facebook user, you can also now join our forum with a single click! All you need to do is visit the forum and click the "Social Login" link at upper right.
We use only your name and Email to identify you and make no other claim on your Facebook information or privacy. However, if you prefer not to use Facebook, contact me at wine@wineloverspage.com for information about registration.
Subscriptions and Administrivia
Unsubscribe:
We're sorry if you must leave us, but simply click the "unsubscribe" link at the bottom of your Email edition to be instantly removed from the mailing list.
Change address:
The quickest and easiest way to change your Email address is simply to register anew, using the link below. If you are keeping your old address but no longer wish to get the Wine Advisor there, click the unsubscribe link below to take it off our list; if you are closing the mailbox, you needn't take any action, as our system will delete your old address as soon as the mail to your old address starts to "bounce."
Subscribe to this weekly E-letter (free)
WineLoversPage.com RSS Feed (free):
http://feeds.feedburner.com/wineloverspage/tzva
Sponsorship Opportunities:
For information, E-mail wine@wineloverspage.com