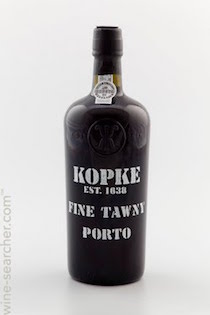 Very dark purple, a tawny in style, but masquerading as a ruby by sight. Good tawny style on the nose, though, fresh cracked walnuts and a hint of brown sugar. More fruit on the palate, dark plums, brown sugar and a fresh, zippy lemon-squirt of acidity that keeps its sweetness in balance; 18.5% alcohol is typical for a tawny, a warming potion for a wintry evening. Very nice after-dinner wine, without the subtlety of a fine vintage Port, perhaps, but plenty of flavor interest to make it a fine value at this price well below $20. U.S. importer: Sogevinus Fine Wines USA, LLC, Bellevue, Wash., Wineworth. (Nov. 12, 2015)
FOOD MATCH: After-dinner sipping with cheese.
WHEN TO DRINK: Tawny Ports are naturally oxidized, sweet and high in alcohol, so they hold up quite well in the bottle and even reasonably well for at least a week or so once the bottle is open. Don't cellar it forever – it isn't likely to improve, and the tiny cork will eventually dry out; but there's no rush to drink it.
VALUE: Wine-Searcher.com lists a $14 median U.S. retail, which seems fair. I'd look for options if my local price ran closer to $20 or above for a full bottle; half-bottles priced proportionately.
WEB LINKS Here's a link to Porto Kopke's home page in English. Note: It plays music unrequested; look for the tiny "Som: On – Off" at upper right to make it stop.
FIND THIS WINE ONLINE:
Check prices and locate vendors for Porto Kopke Tawny on Wine-Searcher.com.
Alvear NV Montilla-Moriles Medium Dry Pedro Ximenez ($14.99)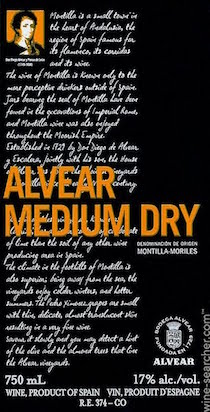 Transparent amber-orange. The scent is very distinct, cracked walnuts or pecans – my mind keeps going back and forth – including the aroma of the papery bits and shells. Given PX's reputation for intense, syrupy, pour-it-over-ice-cream sweetness, this one's surprising in that it hits the palate first with an impression of near-dry sugar and zippy acidity, giving way with time in the glass to a gently sweet, rich-textured mix of walnuts and pecans with hints of citric oranges and lemons. Nuts, snappy citrus and just a hint of pleasant bitterness linger in the finish with 17% fortified alcohol adding a touch of warmth. U.S. importer: Cutting Edge Selections, Mariemont, Ohio; Jorge Ordoñez Selections. (Nov. 18, 2015)
FOOD MATCH: After-dinner sipping with cheese. The back label suggests aperitif drinking, cheeses in general, and "Thai food" without further specification. Actually, the rich texture and slight sweetness might just work with spicy Southeast Asian fare. I may give that a try with the leftovers.
WHEN TO DRINK: While full-sweet Pedro Ximenez is generally all but indestructible, this drier style with some flavor kinship to Fino Sherry suggests that a bit more caution might be warranted. I wouldn't suggest cellaring it, although I expect its sweetness and high alcohol will keep it in the unopened bottle for a year or more.
VALUE: My local price is right on line with Wine-Searcher.com's reported $15 median U.S. retail, and it is a fine value at that price.
WEB LINKS Here's a link to Alvear's Medium Dry Pedro Ximenez fact sheet.
FIND THIS WINE ONLINE:
Locate vendors and find prices for Alvear Medium Dry Pedro Ximenez on Wine-Searcher.com.