We may not welcome the season's wintry blasts, but there's a lot to be said for festive holiday food and wine.
Black Friday Wine Sale – 50% Off Wines
Lock the doors, close the blinds, and warm up your click finger. The Last Bottle Wines Black Friday sale is coming. Enjoy massive discounts on amazing wines and free shipping on 3+ bottles. Sign up here to get $5 instant credit toward your first purchase.
With Thanksgiving coming up, quickly followed by Christmas, Hanukkah, Winter Solstice, New Year's Eve and other regional holidays around the world, we're looking at Wines for a Holiday Feast in this month's Wine Focus in our WineLovers Discussion Group.
Among other things, we are talking about what wines we would choose for a winter feast, and how we pick them. Do you choose wine to match the banquet fare, or forget matching and simply treat wine as another element in the holiday smorgasbord of flavors? Do we go with a high-end treasure because it's celebratory? Or do we break out the more affordable stuff that's food-friendly and doesn't require reverent silence and deep thought in the middle of a festive gathering? Or some/all/none of the above?
And then there's the question that prompts today's rumination: How about after a holiday feast? Coffee, perhaps, perhaps even with a splash of brandy or Irish whiskey to make it an adult beverage. In my opinion, though, there's hardly a better way to put an exclamation point on a festive winter meal than a fortified wine. Port, Sherry, Madeira, Marsala, or the Australian "stickies" and American fortified wines made in their style, it's all good.
For today's report, I took a look at a Port and a Sherry, both interesting but basic models, fairly priced in the middle to upper teens. Both would give splendid service for post-prandial sipping:
* Porto Kopke non-vintage Fine Tawny Port ($17.99) is made as a Tawny, spending time in barrel to mellow its edges and darken its color (as the name "Tawny" implies), although this particular item got into the bottle while it's still recognizably purple. Simple, but not too simple, and affordable, it's fine for sipping after the feast or relaxing by a crackling fire.
* Alvear non-vintage Montilla-Moriles Medium Dry Pedro Ximenez ($14.99) is a tasty and unusual Sherry. It's made from the Pedro Ximenez ("PX") grape, a variety that is almost always made as a thick, syrupy, super-sweet sherry. This time, however, the folks at Alvear have given PX an offbeat but intriguing spin, vinifying it as an almost-dry Sherry that tastes quite a bit like the light, dry Fino Sherry, but with a rich texture and slight fresh-fruit sweetness that gives away its delicious difference.
You'll find my tasting reports on both wines below.
Now, please join us in Wine Focus as we talk about how to decide on our holiday wines. We'll pull a few corks to check it out, as we start looking forward to the holidays. You're invited to click over to Wine Focus and read and participate in the conversation. You can read the forum without registering, but if you'd like to participate in our conversations, you can quickly and easily log in via Facebook, using the "Social Login" button at the upper right corner of any forum page.
Today's Sponsor:
The Ultimate Black Friday Wine Sale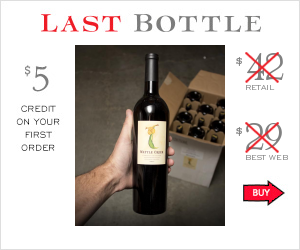 Every day we feature a fantastic wine at the lowest price you'll ever find. But next Friday we're taking it to the next level, with one deal after another rolling out all day long! You'll enjoy some of the steepest discounts of the year, plus free shipping on orders of 3+ bottles. Register here to get $5 credit (and invite friends to get an additional $20!).
About Last Bottle Wines
With established roots in Napa Valley, our team has spent years building trusted relationships with wineries, brokers, and distributors. Now we extend those benefits to you through a select daily wine offered at a much lower price than you'll find anywhere else.
Learn more at Last Bottle Wines.
Today's Tasting Reports
Porto Kopke NV Fine Tawny Port ($17.99)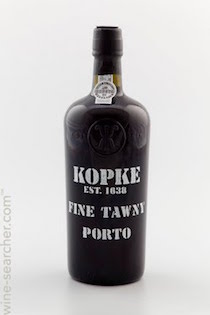 Very dark purple, a tawny in style, but masquerading as a ruby by sight. Good tawny style on the nose, though, fresh cracked walnuts and a hint of brown sugar. More fruit on the palate, dark plums, brown sugar and a fresh, zippy lemon-squirt of acidity that keeps its sweetness in balance; 18.5% alcohol is typical for a tawny, a warming potion for a wintry evening. Very nice after-dinner wine, without the subtlety of a fine vintage Port, perhaps, but plenty of flavor interest to make it a great value at this price well below $20. U.S. importer: Sogevinus Fine Wines USA, LLC, Bellevue, Wash., Wineworth. (Nov. 12, 2015)
FOOD MATCH: After-dinner sipping with cheese.
WHEN TO DRINK: Tawny Ports are naturally oxidized, sweet and high in alcohol, so they hold up quite well in the bottle and even reasonably well for at least a week or so once the bottle is open. Don't cellar it forever – it isn't likely to improve, and the tiny cork will eventually dry out; but there's no rush to drink it.
VALUE: Wine-Searcher.com lists a $14 median U.S. retail, which seems fair. I'd look for options if my local price ran closer to $20 or above for a full bottle; half-bottles priced proportionately.
WEB LINKS Here's a link to Porto Kopke's home page in English. Note: It plays music unrequested; look for the tiny "Som: On – Off" at upper right to make it stop.
FIND THIS WINE ONLINE:
Check prices and locate vendors for Porto Kopke Tawny on Wine-Searcher.com.
Alvear NV Montilla-Moriles Medium Dry Pedro Ximenez ($14.99)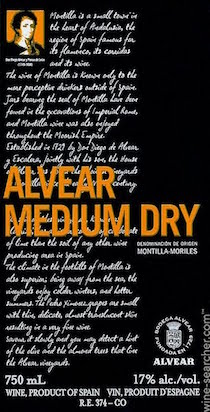 Transparent amber-orange. The scent is very distinct, cracked walnuts or pecans – my mind keeps going back and forth – including the aroma of the papery bits and shells. Given PX's reputation for intense, syrupy, pour-it-over-ice-cream sweetness, this one's surprising in that it hits the palate first with an impression of near-dry sugar and zippy acidity, giving way with time in the glass to a gently sweet, rich-textured mix of walnuts and pecans with hints of citric oranges and lemons. Nuts, snappy citrus and just a hint of pleasant bitterness linger in the finish with 17% fortified alcohol adding a touch of warmth. U.S. importer: Cutting Edge Selections, Mariemont, Ohio; Jorge Ordoñez Selections. (Nov. 18, 2015)
FOOD MATCH: After-dinner sipping with cheese. The back label suggests aperitif drinking, cheeses in general, and "Thai food" without further specification. Actually, the rich texture and slight sweetness might just work with spicy Southeast Asian fare. I may give that a try with the leftovers.
WHEN TO DRINK: While full-sweet Pedro Ximenez is generally all but indestructible, this drier style with some flavor kinship to Fino Sherry suggests that a bit more caution might be warranted. I wouldn't suggest cellaring it, although I expect its sweetness and high alcohol will keep it in the unopened bottle for a year or more.
VALUE: My local price is right on line with Wine-Searcher.com's reported $15 median U.S. retail, and it is a fine value at that price.
WEB LINKS Here's a link to Alvear's Medium Dry Pedro Ximenez fact sheet.
FIND THIS WINE ONLINE:
Locate vendors and find prices for Alvear Medium Dry Pedro Ximenez on Wine-Searcher.com.
We hope you'll "Like" us on Facebook!
If you use Facebook, we'd be delighted to have you "Like" our WineLovers Facebook Page. This way you can get Facebook notifications when there's a new The 30 Second Wine Advisor issue or a topic of particular interest on the WineLovers Discussion Group (WLDG).
If you're a Facebook user, you can also now join our forum with a single click! All you need to do is visit the forum and click the "Social Login" link at upper right.
Talk About Wine Online
If you have questions, comments or ideas to share about today's article or wine in general, you're always welcome to drop by our online WineLovers Discussion Group, the Internet's first and still the most civil online community. To find our forums, click:
Discussions are open for public viewing, but you must register to post. If you're a Facebook user, you can also now join our forum with a single click! All you need to do is visit the forum and click the "Social Login" link at upper right.
We use only your name and Email to identify you and make no other claim on your Facebook information or privacy. However, if you prefer not to use Facebook, contact me at wine@wineloverspage.com for information about registration.
Subscriptions and Administrivia
Unsubscribe:
We're sorry if you must leave us, but simply click the "unsubscribe" link at the bottom of your Email edition to be instantly removed from the mailing list.
Change address:
The quickest and easiest way to change your Email address is simply to register anew, using the link below. If you are keeping your old address but no longer wish to get the Wine Advisor there, click the unsubscribe link below to take it off our list; if you are closing the mailbox, you needn't take any action, as our system will delete your old address as soon as the mail to your old address starts to "bounce."
Subscribe to this weekly E-letter (free)
WineLoversPage.com RSS Feed (free):
http://feeds.feedburner.com/wineloverspage/tzva
Sponsorship Opportunities:
For information, E-mail wine@wineloverspage.com