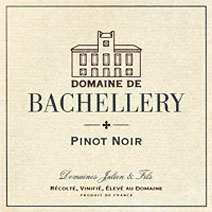 Clear, dark ruby. Red fruit and apple aromas and a whiff of spices; ripe and juicy, plums and cherries and tart, snappy acidity in the flavor, with a touch of oak and a back note of soft tannins. Rather simple, not a great deal of Pinot character, but it's a decent, versatile table red that shows Pinot Noir's easy affinity for a wide variety of foods. Modest 12.5% enhances its simple grace at the dinner table. U.S. importer: Johns Island Imports, Edwardsville, Ill. (Sept. 12, 2015 and Nov. 26, 2015)
FOOD MATCH: At a Thanksgiving Day dinner, it showed the versatility of Pinot by pairing effortlessly with both light and dark turkey meat and a delicious variety of side dishes. Another bottle served with a more everyday dinner went very well with both the mushrooms and cheese components of a dish crafted to match: fettuccine with mushrooms in Parmigiano cream.
WHEN TO DRINK: While this bottle isn't intended for long-term cellaring, its balance and Pinot's nature – ably assisted by a sturdy modern metal screw cap – should keep it safe for several years under good, cool-temperature cellar conditions.
VALUE: Wine-Searcher.com's free search option returns only one hit on Domaine de Bachellery Pays d'Oc Pinot Noir, but its estimated $11 U.S. retail confirms my assessment that $12 is a fair value for this everyday but drinkable Pinot.
WEB LINKS Here's Domaine de Bachellery's English-language page on its Pinot Noir. Click the tiny flag link if you'd like to see it in the original French.
FIND THIS WINE ONLINE:
As noted, Wine-Searcher.com's free service finds only a single U.S. vendor for Domaine de Bachellery Pays d'Oc Pinot Noir.
U.S. importer Johns Island Imports has a contact form at this link, and might be able to offer information about retailers near you.
If you'd like to try other, likely similar, Pinot Noirs from Languedoc's Pays d'Oc, Wine-Searcher.com offers vendor and price information about dozens of options at this link.