Are you getting tired of this year's U.S. presidential campaign? It appears that the hard-core statisticians at FiveThirtyEight might be ready for a break from politics, too.
Earlier this summer – perhaps only coincidentally the day after the Republican National Convention in Cleveland ended – FiveThirtyEight's numbers guys veered into a completely different lane to take a deep dive into a statistical analysis of numbers and trends in the strange world of high-end wine auctions.
If you missed The Weird World Of Expensive Wine when it published in late June, I think you'll enjoy a look through FiveThirtyEight Senior Writer Oliver Roeder's mathematical romp right now.
This is not dull statisticians' prose but a lighthearted survey – with occasional context-appropriate vulgarities scattered here and there – tracking price trends in Bordeaux, California and the rest of the world over the past century, pulling out visual representations of the relationship between wine age and value.
Roeder says he was inspired by watching an auction at Sotheby's in New York City last May, where William Koch (the wine-drinking sibling of the more familiar political Koch brothers) auctioned off 20,000 bottles from his vast cellar and came away with another $21.9 million for his money bin, a sum that made the occasion one of the highest-value wine auctions in history.
"I watched the sale's final day unfold," Roeder wrote, "fascinated — and a little dismayed — by the wines fetching these handsome sums, where they came from, and where they were going. Questions like that are sparks a FiveThirtyEight writer is obligated to kindle."
And so he did. The answers are his to tell, and I recommend clicking over to read them. You'll find the article here.
Barring an occasional lucky visit to a winery at just the right time or a wine dinner sponsored by very generous friends, I don't drink that kind of wine myself, and I imagine most of you don't, either.
In fact, I feel I'm approaching the higher end of wine prices that I usually feature in this column with my reports on a $25 California Chardonnay from Au Bon Climat and a $19 Southern Rhône from Chateau Pegau today. But they're very good wines, well worth these slightly-above-everyday-dinner price tags and perhaps even a bit more. I highly recommend both; you'll find my tasting reports below.
Today's Sponsor:
Stock Up on Artisan Wines for as Low as $7.99!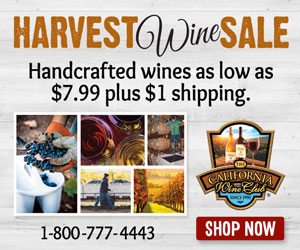 During The California Wine Club's Harvest Wine Sale, you can stock up on handcrafted wines with savings of up to 67% on every bottle. Plus you'll enjoy $1 shipping on every case or half case purchase. Be sure to check out the Super Savers category for the best values.
Shop Now.
Harvest Wine Sale ends on September 30, 2016. Half, full and/or mixed cases all ship via ground for $1.
About The California Wine Club
There are thousands of small family wineries handcrafting extraordinary wine in quantities too limited to be found in local stores or shops. In 1990 wine club founders Bruce and Pam Boring discovered that these winemaking families were the most passionate in the wine world and that their wines were the hidden gems of wine country! Together Bruce and Pam embarked on a journey to help these artisan wineries introduce their exquisite wines to the world. Learn more.
www.cawineclub.com 1-800-777-4443
Hugh Johnson's Pocket Wine Book 2017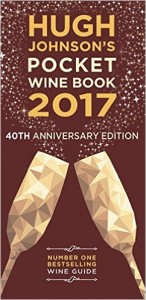 A quick reminder: Hugh Johnson's pocket guide to the world of wine has grown quite a bit over the years, but it still offers a quick and portable way to look up short details about almost any wine, grape or wine region you could imagine.
You can buy Hugh Johnson's Pocket Wine Book 2017 from Amazon.com for $12.74, a 25 percent discount off its $16.99 list price. The Kindle Edition is $7.99, delivered instantly to your Kindle reader or free Kindle app.
Today's Tasting Reports
Au Bon Climat 2014 Santa Barbara County Chardonnay ($24.99)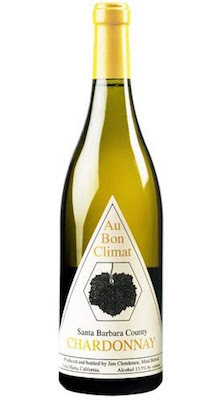 This transparent light straw color wine shows glints of gold against the light. Pleasant green-apple aromas add aromatic hints of peach and a gentle touch of nutmeg as the wine opens in the glass. It's beautifully ripe and full on the palate, with peach, apple and lemon zest in a flavor that's rich but dry, and nicely restrained by bright acidity. Subtle hints of "stony" minerality show up as the wine crosses the palate, with zippy lemon ice in a long, clean finish. At 13.5 percent alcohol, it's well balanced and fine with food. (Sept. 22, 2016)
FOOD MATCH: Just out of curiosity, we constructed a similar green-been-and-scrambled egg summer dish with Ethiopian harissa flavor as we had enjoyed with the Pegau reviewed below. It worked well here, too with its rich mix of eggs and green vegetables shaped by aromatic ginger and garlic and spicy harissa. For a more traditional match, it will be fine with fresh ocean fish and richer seafood or lighter cuts of pastured pork.
WHEN TO DRINK: According to the winery website, "It will improve for at least 10 years and as it evolves, try this wine with chanterelle mushroom pasta and be amazed." Unless you have a good, climate-controlled wine cellar, I don't know if I'd risk 10 years, but certainly five years or a bit more past the vintage is doable.
VALUE:
Our local price is a few bucks above the $22 suggested retail pricewhich is right on the average U.S. retail posted on Wine-Searcher.com
WEB LINK
You'll find lots of details about Au Bon Climat 2014 Santa Barbara County Chardonnay on this winery information page.
FIND THIS WINE ONLINE:
Look for vendors and compare prices for Au Bon Climat Santa Barbara County Chardonnay on Wine-Searcher.com.
Château Pégau 2014 Cuvée Lône Côtes-du-Rhône ($18.99)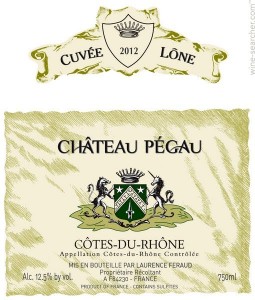 An odd but not unpleasant earthy-chalky note pops up first in the aroma of this pale, slightly brassy straw-color wine on the first sniff, perhaps a signal of time spent on the "lees" of yeast after fermentation. It soon gives way to delicate floral notes and a whiff of stone fruit. Overall the aroma is complex and interesting, but more delicate than powerful. Peach and apricot become a bit more evident along with palate-cleansing acidity in the fresh, tart and dry flavor, but it's subtle minerality that hangs on in a very long, clean finish. Just 12.5 percent alcohol in a well-balanced Rhône blend of 40% Clairette, 30% Bourboulenc, 20% Grenache Blanc and 10% Ugni Blanc. U.S. importer: Hand Picked Selections Inc., Warrenton, Va. (Sept. 9, 2016)
FOOD MATCH: Its fresh, acidic flavor makes it a natural with mild, firm-fleshed fish, but it should be a versatile match with poultry or pork, cheese or egg dishes. It was fine with a quick green bean and egg skillet dinner with onions, garlic and a touch of harissa Ethiopian spice.
WHEN TO DRINK: I don't see it as a long-term ager, but there's no rush to drink it up over the next year or three.
VALUE:
This excellent white is well worth the upper-teens price I paid locally, but shop around, as Wine-Searcher.com shows a $16 U.S. average retail price.
WEB LINK Here's an importer's information page on Cuvée Lône. (Take note that it incorrectly describes the wine's appellation as Châteauneuf-du-Pâpe. That's incorrect and potentially misleading. The vineyard, as the label correctly discloses, is in the Côtes-du-Rhône;. It's a few miles from Châteauneuf-du-Pâpe, and the price tag reflects the difference.
FIND THIS WINE ONLINE:
Compare prices and find vendors for Château Pégau Cuvée Lône Côtes-du-Rhône on Wine-Searcher.com.
Social Media
If you use Facebook, we'd be delighted to have you "Like" our WineLovers Facebook Page. This way you can get Facebook notifications when there's a new The 30 Second Wine Advisor issue or a topic of particular interest on the WineLovers Discussion Group (WLDG).
If you're a Facebook user, you can join our forum with a single click! All you need to do is visit the forum and click the "Social Login" link at upper right.
Finally, I welcome social media connections, but if I won't recognize your name, I suggest that you contact me via Email to wine@wineloverspage.com to let me know that you've requested a connection.
Connect with Robin Garr on LinkedIn
Talk About Wine Online
If you have questions, comments or ideas to share about today's article or wine in general, you're always welcome to drop by our online WineLovers Discussion Group, the Internet's first and still the most civil online community. To find our forums, click:
Discussions are open for public viewing, but you must register to post. If you're a Facebook user, you can also now join our forum with a single click! All you need to do is visit the forum and click the "Social Login" link at upper right.
We use only your name and Email to identify you and make no other claim on your Facebook information or privacy. However, if you prefer not to use Facebook, contact me at wine@wineloverspage.com for information about registration.
Subscriptions and Administrivia
Unsubscribe:
We're sorry if you must leave us, but simply click the "unsubscribe" link at the bottom of your Email edition to be instantly removed from the mailing list.
Change address:
The quickest and easiest way to change your Email address is simply to register anew, using the link below. If you are keeping your old address but no longer wish to get the Wine Advisor there, click the unsubscribe link below to take it off our list; if you are closing the mailbox, you needn't take any action, as our system will delete your old address as soon as the mail to your old address starts to "bounce."
Subscribe to this weekly E-letter (free)
Sponsorship Opportunities:
For information, E-mail wine@wineloverspage.com