If you'd like some light movie watching for the holidays and you'd like it with a wine spin, take a look at "Sour Grapes."
A documentary with the feel of a brisk modern detective drama, "Sour Grapes" tells the tale of Rudy Kuriawan, a young, Indonesian-born Los Angeles wine geek who faked out more than a few wine-industry luminaries, selling them thousands of bottles of counterfeit wine in very high-end bottles in private sales and at high-end auctions.
"With pockets full of cash, charisma and a preternatural memory for vintages," the movie website sums up, "an unassuming young Rudy Kurniawan earns the reputation of a wine savant, surrounding himself with some of high society's most fervent wine connoisseurs. But when Bill Koch, a top US collector, and Laurent Ponsot, a Burgundian wine producer, discover suspicious bottles, a humorous and suspenseful investigation begins into one of the most ingenious cons of our time."
At the end, justice is served. With Koch's dogged persistence and the intrigued involvment of M. Ponsot, Kurniawan's plot is uncovered as a search warrant reveals his modest house full of empty trophy-wine bottles and collections of high-end labels. In June 2014, Kurniawan was sentenced to 10 years in prison and ordered to forfeit $20 million and to pay $28.4 million to victims, according to a Los Angeles Times report. Upon his eventual release, he'll be deported to Indonesia. In this case, crime finally did not pay.
Yet I couldn't help noticing how few of his victims – other, perhaps, than Koch, who was rightly miffed at having been conned out of more than $2 million – seemed particularly perturbed. As Jerome H. Mooney, one of Kurniawan's lawyers, put it in a bid for mercy, "Nobody died. Nobody lost their savings. Nobody lost their job."
The judge, it seems, did not find this plea persuasive.
If you'd like to watch the "Sour Grapes" trailer, you'll find it here on YouTube.
The full-length film is available on Netflix, and you can follow the film on Facebook.
Today's Sponsor:
Get a Shipping Upgrade on Wine Gifts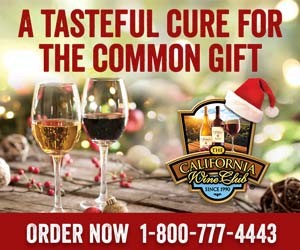 Don't go crazy. Easy holiday gifting is here. Send fun and unique wine gifts from The California Wine Club and get 2-day air delivery for the price of ground shipping. Save $21.
Redeem Offer
This holiday season, give delicious deliveries of award-winning, handcrafted wine. Every wine is hand-selected from a real, working artisan winery. It is a gift they are sure to savor.
Every holiday gift includes beautifully hand-wrapped bottles, an elegant wine stopper and a $25 wine credit.
This offer expires at 11:59 p.m. PST on December 26, 2016.
About The California Wine Club
Since 1990 it has been The California Wine Club's mission to help small, artisan wineries introduce their award-winning wines to wine lovers across the U.S. Learn more.
www.cawineclub.com 1-800-777-4443
The perfect wine-geek holiday gift
I've been recommending my friends Steve and Deborah De Long's Wine Grape Varietal Table for years. One of the most innovative wine-enthusiast notions I've seen yet, it mimics the familiar periodic table of the elements to categorize a world of wine grape varieties. A wine reference disguised as a fine-art print, it's a great gift for a wine-loving friend – or yourself – and makes a fun wall display for cellar or study or tasting room. Click here to order them now.
The De Longs also produce stunning, quality poster-size wine maps of France, Italy and other regions for $14.95 to $29.95. Click here to view and order any of the De Long wine maps.
Today's Tasting Reports
This week I'm sampling a couple of bottles of good Prosecco from Northeastern Italy, one of my favorite affordable sparkling wines. Although it's made by the maligned "Charmat" process, fermented in large vats rather than in the individual bottle, it can be surprisingly fresh, balanced and appealing, even if it lacks the subtle complexities of the finer (and more expensive) stuff.
We're tasting and talking about sparkling wines other than Champagne this month in Wine Focus in our WineLovers Discussion Group. You're warmly welcome to join in. To participate in the conversation, simply click to December Wine Focus: Sparklers, not Champagne. There's no need to wait for an invitation; feel free to join any conversation you can see, or start a new one. If you aren't a forum member yet, the easiest way to join is to click "Social Login" at the top of any page, which will use your Facebook identity to register you. If you're not on Facebook but would like to join the forum, Email me at wine@wineloverspage.com, and we'll work it out.
Il Follo Prosecco Extra Dry ($12.99)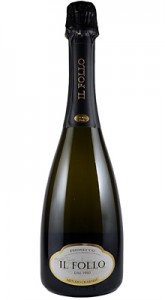 Clear light greenish-gold, a pale brass color; it foams up in a frothy mousse that falls back fast, leaving a steady shower of persistent bubbles. Fresh and appealing citrus aromas and flavors, it offers a mix of lemon-lime and juicy tangerine, bone-dry without a hint of sweetness. Frothy and fresh on the palate, mixed citrus flavors mingle with bright, zippy acidity in a long, clean finish. U.S. importer: Vanguard Wines, Columbus, Ohio. (Dec.14, 2016)
FOOD MATCH: Goes just about anywhere that a white wine would go. It was fine with a warming winter-comfort food dinner of buttery mashed potatoes topped with an umami-rich ragout of sauteed mushrooms with onions and garlic.
WHEN TO DRINK: Not meant for aging, buy it, drink it, and buy more later.
VALUE:
My local price is right on the $13 average U.S. retail shown on Wine-Searcher.com. It's a good buy for a clean, fresh and snappy bubbly at that price.
WEB LINK
The Il Follo website is available in Italian, German and English. Here's the English-language home page.
FIND THIS WINE ONLINE:
Compare prices and find vendors for Il Follo Prosecco Extra Dry on Wine-Searcher.com.
Nino Franco "Rustico" Valdobbiadene Prosecco Superiore ($16.99)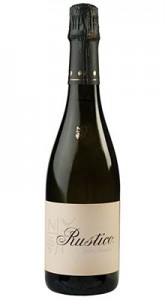 Bright gold with a slight greenish-brassy hue. It pours up very foamy but falls back to reveal lasting, multiple streams of bubbles that last. Simple and fresh, its aromas and flavors evoke fresh pears and apples with a back note of orange peel. Carbonation adds structure in the mouth, with white-fruit flavors, light 11 percent alcohol, and sufficient acidity to serve at the table without being overly tart. Nicely balanced bubbly. U.S. importer: Terlato Wines International, Lake Bluff, Ill. (Dec. 2, 2016)
FOOD MATCH: Good for an aperitif, good wherever a light white wine will serve. It was great with J. Kenji Lopez-Alt's "best roasted potatoes ever" with roasted asparagus.
WHEN TO DRINK: Don't cellar. Drink up.
VALUE:
Its average U.S. retail price is $16, via Wine-Searcher.com, and it's not a bad buy at that price, but I'm not sure it can stand up in value against the traditionally made Blanquettes de Limoux featured in the Wine Advisor last month.
WEB LINK
Producer Nino Franco offers this PDF fact sheet on Rustico Prosecco.
FIND THIS WINE ONLINE:
Check prices and find vendors for Nino Franco "Rustico" Valdobbiadene Prosecco Superiore on Wine-Searcher.com .
Social Media
If you use Facebook, we'd be delighted to have you "Like" our WineLovers Facebook Page. This way you can get Facebook notifications when there's a new The 30 Second Wine Advisor issue or a topic of particular interest on the WineLovers Discussion Group (WLDG).
If you're a Facebook user, you can join our forum with a single click! All you need to do is visit the forum and click the "Social Login" link at upper right.
Finally, I welcome social media connections, but if I won't recognize your name, I suggest that you contact me via Email to wine@wineloverspage.com to let me know that you've requested a connection.
Connect with Robin Garr on LinkedIn
Talk About Wine Online
If you have questions, comments or ideas to share about today's article or wine in general, you're always welcome to drop by our online WineLovers Discussion Group, the Internet's first and still the most civil online community. To find our forums, click:
Discussions are open for public viewing, but you must register to post. If you're a Facebook user, you can also now join our forum with a single click! All you need to do is visit the forum and click the "Social Login" link at upper right.
We use only your name and Email to identify you and make no other claim on your Facebook information or privacy. However, if you prefer not to use Facebook, contact me at wine@wineloverspage.com for information about registration.
Subscriptions and Administrivia
Unsubscribe:
We're sorry if you must leave us, but simply click the "unsubscribe" link at the bottom of your Email edition to be instantly removed from the mailing list.
Change address:
The quickest and easiest way to change your Email address is simply to register anew, using the link below. If you are keeping your old address but no longer wish to get the Wine Advisor there, click the unsubscribe link below to take it off our list; if you are closing the mailbox, you needn't take any action, as our system will delete your old address as soon as the mail to your old address starts to "bounce."
Subscribe to this weekly E-letter (free)
Sponsorship Opportunities:
For information, E-mail wine@wineloverspage.com