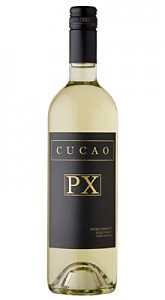 Transparent straw color with a golden hue. It seems to show a nutty whiff of oxidation at first, but this blows off to reveal heavy and complex aromatics of pears, mangoes and green figs. It's fresh and dry on the palate, a far cry from the intensely sweet PX Sherries, but a good, rich mouthfeel balanced by bright acidity, and aromatic white-fruit flavors that follow the nose. Gentle 12 percent alcohol with a hint of peach-pit bitterness in a long finish that works as a pleasant aperitif or versatile food wine. U.S. importer: Vintner Select, Mason, Ohio. (Jan. 4, 2017)
FOOD MATCH: Its aromatics would make it a winner with sweeter seafood like crab or lobster; it would stand up well to flavorful preparations of poultry or pork. We made a veggie match with an aromatic dish of well-browned brussels sprouts and lima beans in a lightly spicy braise.
WHEN TO DRINK: Its slightly oxidized character and sturdy metal screwcap would likely protect it against going around the bend, but I'm not sure it would reward cellaring. I'd drink up and enjoy.
VALUE:
It's hard to complain about an interesting white that comes in for a penny under 10 bucks. Unfortunately, though, it may not be easy to find.
WEB LINK
Here's a fact sheet on Cucao "PX" from Regal Wines, another importer.
FIND THIS WINE ONLINE:
Wine-Searcher.com doesn't offer us much help on this one, with only one vendor found on the free service. You might try this link, though, for other Elqui Valley wines including a couple of Pedro Ximenez.
You might also check in with regional distributors Regal Wines and Vintner Select for information about retail sources near you.