Did it ever cross your mind that Chile is something like California, if you took California and stretched it out really long and thin? And put it in the Southern Hemisphere, of course.
Look at the numbers: California stretches a little under 800 miles from north to south. Chile is almost 2,800 miles long, pretty nearly as far as the entire U.S. is wide. But Chile is shaped like a long, narrow green bean, only a little over 100 miles wide. And in that short distance, Chile soars all the way from sea level at the coast to the height of the Andes, with some peaks passing 20,000 feet.
Like California, Chile's long coast stretches along the Pacific Ocean; and like California, its climate is moderated by cold ocean currents offshore, resulting in a generally temperate climate that's typically warmer at the coast, colder at high altitudes.
So here's the wine-related point to all this geographical rumination: Chile's natural setting makes it just about as good a place to grow grapes and make wine as the Golden State, particularly in sheltered upland valleys surrounding the capital, Santiago. (For more details, see The Wines of Chile's useful pages on History and Geography.
It's no surprise, then, that those who live there quickly planted vineyards and made wine, from the 16th century European colonizers who imported Mission grapes from Spain to make sacramental wine, to the 19th century French immigrants, fleeing the phylloxera louse that plagued Europe's vineyards, who made Cabernet Sauvignon, Merlot and Sauvignon Blanc – the grapes of Bordeaux – into Chile's workhorse varieties.
Unfortunately, the presence of those popular varieties prompted the Chilean wine industry to approach the American market with inexpensive, simple wines aimed at competing in the single-digit dollar niche. By the standards of the market – sales – they clearly succeeded, with the major Chilean winery Concha y Toro and its popular brand, Casillero del Diablo, for example, ranking high among international wine producers in U.S. sales.
But again like California, there's plenty of diversity across the Chilean wine country, and rewards await those willing to look past the shiny items on display in the showroom. Today, for instance, we sampled two affordable wines made in less familiar Chilean regions: Oveja Negra 2014 Maule Valley Cabernet Franc – Carmenere Reserva, a Bordeaux-style blend made in the central region's Maule Valley from less common varieties; and Cucao 2014 "PX" Elqui Valley Pedro Ximenez Reserva, made from an uncommon grape most often found in toothache-sweet Sherries from Spain or, closer to its home, in Pisco brandy from Chile, also made in the northern Elqui Valley region. You'll find my tasting notes below.
We're tasting and talking about all the wines of Chile this month in Wine Focus in our WineLovers Discussion Group. You're warmly welcome to join in. To participate in the conversation, simply click to January Wine Focus: Chile. There's no need to wait for an invitation; feel free to join any conversation you can see, or start a new one. If you aren't a forum member yet, the easiest way to join is to click "Social Login" at the top of any page, which will use your Facebook identity to register you. If you're not on Facebook but would like to join the forum, Email me at wine@wineloverspage.com, and we'll work it out.
Today's Sponsor:
Take 10% Off Everything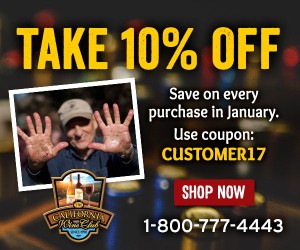 January is Customer Appreciation Month at The California Wine Club.
We invite you to take 10% off any purchase:
• Try one of our five wine club levels – something for every taste and budget!
• Buy a case of favorite wines or try something new.
• Send a fun and unique wine gift.
Simply use coupon code CUSTOMER17 when ordering.
Get Started
Offer valid through January 31, 2017. Offer cannot be combined with any other promotion nor applied to previously placed orders.
About The California Wine Club
There are thousands of small family wineries handcrafting extraordinary wine in quantities too limited to be found in local stores or shops. In 1990 wine club founders Bruce and Pam Boring discovered that these winemaking families were the most passionate in the wine world and that their wines were the hidden gems of wine country! Together Bruce and Pam embarked on a journey to help these artisan wineries introduce their exquisite wines to the world. Learn more.
www.cawineclub.com 1-800-777-4443
Today's Tasting Reports
Oveja Negra 2014 Maule Valley Cabernet Franc – Carmenere Reserva ($9.99)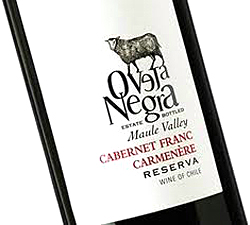 A blend of 60 percent Cabernet Franc and 40 percent Carmenere, this is a dark reddish-purple wine, shading to a clear garnet edge. Blackberries and blueberries show first in the aroma, joined by a distinct note of brown spices. Juicy black fruit, bright acidity and a distinct buzz of tannic astringency join on the palate in a simple, forward flavor that softens a bit with time in the glass. It will also benefit from a bit of fat – either meat or cheese – to help bring it into balance. 13,5% alcohol. U.S. importer: Old Bridge Cellars, Napa, Calif. (Jan. 2, 2017)
FOOD MATCH: Good with a rich mushroom fumé and better still with a variety of cheeses.
WHEN TO DRINK: Its sturdy metal screwcap should confer protection against short-term aging, but it doesn't strike me as a wine intended for cellar time.
VALUE:
It's an excellent value at my local price, which mirrors the $10 average U.S. retail reported on Wine-Searcher.com.
WEB LINK
Here's a fact sheet on Oveja Negra from importer Old Bridge Cellars.
The Ova Negra winery offers its website in English and Spanish. Here's an English info sheet on the Cab Franc-Carmenere. You can also "Like" the winery's Facebook Page.
FIND THIS WINE ONLINE:
Find vendors and check prices for Oveja Negra Maule Valley Cabernet Franc – Carmenere Reserva on Wine-Searcher.com.
Cucao 2014 "PX" Elqui Valley Pedro Ximenez Reserva ($9.99)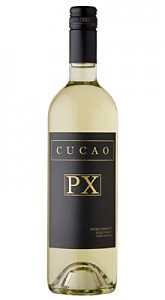 Transparent straw color with a golden hue. It seems to show a nutty whiff of oxidation at first, but this blows off to reveal heavy and complex aromatics of pears, mangoes and green figs. It's fresh and dry on the palate, a far cry from the intensely sweet PX Sherries, but a good, rich mouthfeel balanced by bright acidity, and aromatic white-fruit flavors that follow the nose. Gentle 12 percent alcohol with a hint of peach-pit bitterness in a long finish that works as a pleasant aperitif or versatile food wine. U.S. importer: Vintner Select, Mason, Ohio. (Jan. 4, 2017)
FOOD MATCH: Its aromatics would make it a winner with sweeter seafood like crab or lobster; it would stand up well to flavorful preparations of poultry or pork. We made a veggie match with an aromatic dish of well-browned brussels sprouts and lima beans in a lightly spicy braise.
WHEN TO DRINK: Its slightly oxidized character and sturdy metal screwcap would likely protect it against going around the bend, but I'm not sure it would reward cellaring. I'd drink up and enjoy.
VALUE:
It's hard to complain about an interesting white that comes in for a penny under 10 bucks. Unfortunately, though, it may not be easy to find.
WEB LINK
Here's a fact sheet on Cucao "PX" from Regal Wines, another importer.
FIND THIS WINE ONLINE:
Wine-Searcher.com doesn't offer us much help on this one, with only one vendor found on the free service. You might try this link, though, for other Elqui Valley wines including a couple of Pedro Ximenez.
You might also check in with regional distributors Regal Wines and Vintner Select for information about retail sources near you.
Social Media
If you use Facebook, we'd be delighted to have you "Like" our WineLovers Facebook Page. This way you can get Facebook notifications when there's a new The 30 Second Wine Advisor issue or a topic of particular interest on the WineLovers Discussion Group (WLDG).
If you're a Facebook user, you can join our forum with a single click! All you need to do is visit the forum and click the "Social Login" link at upper right.
Finally, I welcome social media connections, but if I won't recognize your name, I suggest that you contact me via Email to wine@wineloverspage.com to let me know that you've requested a connection.
Connect with Robin Garr on LinkedIn
Talk About Wine Online
If you have questions, comments or ideas to share about today's article or wine in general, you're always welcome to drop by our online WineLovers Discussion Group, the Internet's first and still the most civil online community. To find our forums, click:
Discussions are open for public viewing, but you must register to post. If you're a Facebook user, you can also now join our forum with a single click! All you need to do is visit the forum and click the "Social Login" link at upper right.
We use only your name and Email to identify you and make no other claim on your Facebook information or privacy. However, if you prefer not to use Facebook, contact me at wine@wineloverspage.com for information about registration.
Subscriptions and Administrivia
Unsubscribe:
We're sorry if you must leave us, but simply click the "unsubscribe" link at the bottom of your Email edition to be instantly removed from the mailing list.
Change address:
The quickest and easiest way to change your Email address is simply to register anew, using the link below. If you are keeping your old address but no longer wish to get the Wine Advisor there, click the unsubscribe link below to take it off our list; if you are closing the mailbox, you needn't take any action, as our system will delete your old address as soon as the mail to your old address starts to "bounce."
Subscribe to this weekly E-letter (free)
Sponsorship Opportunities:
For information, E-mail wine@wineloverspage.com