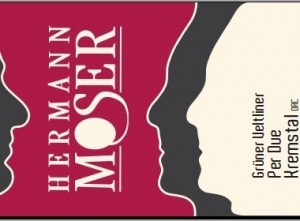 This clear, light straw-colored wine shows surprisingly bold and aromatic scents for a GV, perhaps hinting at the wine maker's placement of "The Spark" bottling as an introduction to wine lovers unfamiliar with the grape. It's pleasant, though, with luscious aromas of peach and melon and perhaps a floral back note of gardenia. It's rather full-bodied on the palate, but crisp, zippy acidity holds it in balance and positions it as an excellent food wine. Stone fruit and tangy citrus come together in the flavor, with that classic "stony" minerality so typical of Austrian whites showing up alongside the fruit in a very long finish. A gentle 12% makes the decision to have a second glass, or possibly a third, an easy one. U.S. importer: Boutique Wine Collection, Philadelphia, Pa. (April 18, 2017)
FOOD MATCH: It would go well with mild freshwater fish, and it's also excellent with eggs, green vegetables and cheese. An asparagus and goat-cheese frittata made an ideal match. The winery also offers an extensive range of pairing suggestions: "It will go well with Asian food—anything from Vietnamese to Thai to spicy Chinese flavors. You can also try it with seafood or bitter greens and salads. It is versatile and will also complement pork tenderloin, or a dish where the wine's acidity can cut through salt and fat, such as smoked ham."
WHEN TO DRINK: Its good balance and zippy acidity should hold it for a while, and the sturdy metal screw cap is also protective. Still, it's a wine to be enjoyed fresh and young, so I'd drink it up over the next year or two, then watch for more recent vintages.
VALUE:
This wine is a good value in the middle teens; Wine-Searcher.com shows a $14 average U.S. retail.
FIND THIS WINE ONLINE:
Find vendors and compare prices for Hermann Moser Kremstal Grüner Veltliner "Per Due" "The Spark"on Wine-Searcher.com.