Wine is good for us, at least as long as we consume it in reasonable amounts.
Be The Favorite
Give Mom a wine gift with more wine. The California Wine Club will include an extra delivery of handcrafted wine when you treat Mom to a wine gift of three deliveries (or more). This offer expires on July 1, 2017.
Click here to see the offer
This simple statement, known intuitively for centuries and the subject of extensive research for the past quarter-century or so, seems to be about as close to settled science as, say, climate change or evolution, to name a couple of other controversial realms of scientific inquiry.
The idea that wine is neither neutral nor actively bad for one's health hit the headlines back in 1991, when CBS 60 Minutes commentator Morley Safer presented a report on "The French Paradox," the unexpected reality that French people tend to eat lots of delicious cheese and other fatty delights, yet suffer fewer heart attacks or other cardiovascular diseases than Americans. The secret, according to scientists quoted in Safer's interview, seems to be that the French also consume a lot of red wine, which apparently has a beneficial effect on heart and circulatory health.
In the ensuing years, there's been one study after another, it seems, all of them generally yielding similar results: Wine is good for us, as long as we don't overdo it. (And, of course, always keeping in mind that wine isn't medicine, and shouldn't be viewed as such. It's simply one of many enjoyable ingredients in a happy, healthy lifestyle.)
By and large, most wine-and-health studies have focused on heart and cardiovascular health. Last autumn, though, a study by the Cleveland Clinic's Lou Ruvo Center for Brain Health in Las Vegas took a different tack. Using MRIs to peek into the brains of 13 Master Sommeliers – perhaps the ultimate wine experts – they found unusually "enhanced volume" – thick, healthy tissue – in the portions of the brain associated with smell and memory. This might signal an increased resistance to Alzheimer's and Parkinson's diseases, the scientists said.
You can read the full, lengthy study online at this link. It's heavy going, but if, like me, you'd just as soon jump to the end and read the conclusions, here you go!
"This study identified enhanced structural and functional patterns in the olfactory network of sommeliers. These findings are consistent with the learning they undergo in achieving the status of Master Sommelier. Furthermore, the volume of a region of the brain involved in olfactory memory was associated with experience, suggesting that the continued training results in morphological changes of the brain. These results speak to the plasticity of the adult brain in response to sensory expertise. Future research into therapeutic sensory-cognitive training in individuals at risk from neurodegenerative diseases, such as Alzheimer's or Parkinson's, which impact the same regions of the limbic system and entorhinal cortex, might provide an important clinical application of these results."
No, we can't all be Master Sommeliers. It's been my privilege to work with a few in training, and I can tell you that it's a long, hard, but rewarding grind. But next time you enjoy a glass of wine, take a few moments to ponder it thoughtfully and think about it deeply. I figure it can't hurt!
Today's Sponsor:
Be The Favorite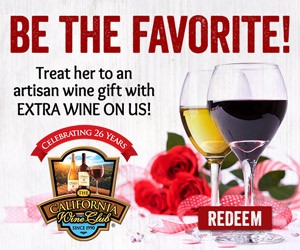 Give Mom a wine gift with more wine. The California Wine Club will include an extra delivery of handcrafted wine when you treat Mom to a wine gift of three deliveries (or more).
Each wine gift includes:
* Two award-winning handcrafted and hand-selected wines in each delivery. A different winery is featured every month, making this a true wine adventure for her!
* An elegant bottle stopper.
* $25 Wine Credit.
Love It Guarantee – We guarantee the utmost satisfaction of you and your gift recipients.
This offer expires on July 1, 2017.
Click here to see the offer
About The California Wine Club
There are thousands of small family wineries handcrafting extraordinary wine in quantities too limited to be found in local stores or shops. In 1990 The California Wine Club Founders Bruce and Pam Boring discovered that these winemaking families were the most passionate in the wine world and that their wines were the hidden gems of wine country! Together Bruce and Pam embarked on a journey to help these artisan wineries introduce their exquisite wines to the world. Learn more.
www.cawineclub.com 1-800-777-4443
Wine Focus for May: Wines of Austria
There's still time to participate in our Wine Focus for April 2017: Wines of Australia, but as we near the month's end, we're ready, too, to jump into our topic for May, Wines of Austria.
To join in our discussion and tasting across the land Down Under, click Wine Focus for April 2017: Wines of Australia and bring your Australian comments, questions and tasting notes! Meanwhile, though it's not too early to start thinking about such uniquely Austrian grapes as Grüner Veltliner, Zweigelt, not to mention Austria's own take on world-favorite Riesling, in Wine Focus for May 2017, Wines of Austria
I'll get us started with two good Austrian wines in today's tastings. Hermann Moser's entry-level Grüner Veltliner is nicknamed "The Spark" because it is intended as an introduction to GV, a wine that will spark your interest and get you started with appreciating and wanting to experience more of this iconic Austrian variety. Markus Huber's Zweigelt ("Tsvy-gelt") is a relatively modern grape, an early 20th century cross between Austria's Blaufränkish (a.k.a. Lemberger) and Sankt Laurent.
Today's Tasting Reports
Hermann Moser 2015 Kremstal Grüner Veltliner "Per Due" "The Spark" ($16)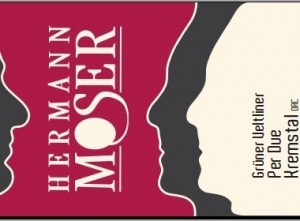 This clear, light straw-colored wine shows surprisingly bold and aromatic scents for a GV, perhaps hinting at the wine maker's placement of "The Spark" bottling as an introduction to wine lovers unfamiliar with the grape. It's pleasant, though, with luscious aromas of peach and melon and perhaps a floral back note of gardenia. It's rather full-bodied on the palate, but crisp, zippy acidity holds it in balance and positions it as an excellent food wine. Stone fruit and tangy citrus come together in the flavor, with that classic "stony" minerality so typical of Austrian whites showing up alongside the fruit in a very long finish. A gentle 12% makes the decision to have a second glass, or possibly a third, an easy one. U.S. importer: Boutique Wine Collection, Philadelphia, Pa. (April 18, 2017)
FOOD MATCH: It would go well with mild freshwater fish, and it's also excellent with eggs, green vegetables and cheese. An asparagus and goat-cheese frittata made an ideal match. The winery also offers an extensive range of pairing suggestions: "It will go well with Asian food—anything from Vietnamese to Thai to spicy Chinese flavors. You can also try it with seafood or bitter greens and salads. It is versatile and will also complement pork tenderloin, or a dish where the wine's acidity can cut through salt and fat, such as smoked ham."
WHEN TO DRINK: Its good balance and zippy acidity should hold it for a while, and the sturdy metal screw cap is also protective. Still, it's a wine to be enjoyed fresh and young, so I'd drink it up over the next year or two, then watch for more recent vintages.
VALUE:
This wine is a good value in the middle teens; Wine-Searcher.com shows a $14 average U.S. retail.
WEB LINK
Here's a fact sheet from importer Boutique Wines.
FIND THIS WINE ONLINE:
Find vendors and compare prices for Hermann Moser Kremstal Grüner Veltliner "Per Due" "The Spark"on Wine-Searcher.com.
Markus Huber 2013 Niederösterreich Zweigelt ($20)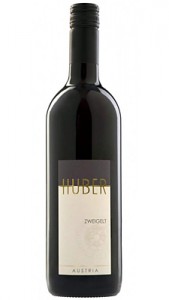 Dark garnet, shading to a clear edge. Tart black cherry and cranberry aromas lead into a bright black-fruit flavor structured by zippy, mouth-watering acidity. Soft tannins join in on the palate, and the characteristic Austrian "stony" minerality lingers with tart cherries and a lemon-squirt of citrus in a very long finish. U.S. importer: Broadbent Selections Inc., Sonoma, Calif. (April 26, 2017)
FOOD MATCH: A very good companion with the garlicky flavors of eggplant imam bayildi, cooked with tomatoes and lots of onion and garlic. It would work well, too, with lighter red meat, burgers or pork.
WHEN TO DRINK: It's not an ager, but its protective screw cap should keep it sound for several years.
VALUE:
My $20 local price was out of control. Wine-Searcher.com reports a $15 average U.S. retail, so shop around if you can.
WEB LINK
Here's a winery fact sheet in English on the 2013 Zweigelt. For more information about the Huber winery, see this page on the importer's web site.
FIND THIS WINE ONLINE:
Check prices and find vendors for Markus Huber Niederösterreich Zweigelt on Wine-Searcher.com.
Social Media
If you use Facebook, we'd be delighted to have you "Like" our WineLovers Facebook Page. This way you can get Facebook notifications when there's a new The 30 Second Wine Advisor issue or a topic of particular interest on the WineLovers Discussion Group (WLDG).
If you're a Facebook user, you can join our forum with a single click! All you need to do is visit the forum and click the "Social Login" link at upper right.
Finally, I welcome social media connections, but if I won't recognize your name, I suggest that you contact me via Email to wine@wineloverspage.com to let me know that you've requested a connection.
Connect with Robin Garr on LinkedIn
Talk About Wine Online
If you have questions, comments or ideas to share about today's article or wine in general, you're always welcome to drop by our online WineLovers Discussion Group, the Internet's first and still the most civil online community. To find our forums, click:
Discussions are open for public viewing, but you must register to post. If you're a Facebook user, you can also now join our forum with a single click! All you need to do is visit the forum and click the "Social Login" link at upper right.
We use only your name and Email to identify you and make no other claim on your Facebook information or privacy. However, if you prefer not to use Facebook, contact me at wine@wineloverspage.com for information about registration.
Subscriptions and Administrivia
Unsubscribe:
We're sorry if you must leave us, but simply click the "unsubscribe" link at the bottom of your Email edition to be instantly removed from the mailing list.
Change address:
The quickest and easiest way to change your Email address is simply to register anew, using the link below. If you are keeping your old address but no longer wish to get the Wine Advisor there, click the unsubscribe link below to take it off our list; if you are closing the mailbox, you needn't take any action, as our system will delete your old address as soon as the mail to your old address starts to "bounce."
Subscribe to this weekly E-letter (free)
Sponsorship Opportunities:
For information, E-mail wine@wineloverspage.com