We visited the Azienda Vinicola G. Cesari winery while attending the Anteprima Amarone festival held in Verona at the end of January.
Founded in 1936, Cesari is today the producer of approximately 1.5 million bottles of red, white and rose wine. Since Antprima Amarone was held to celebrate the debut of the 2013 Amarone, the signature wine of the Valpolicella region, the emphasis at the time of our visit was almost exclusively on the Valpolicella red wines. Thus, our tastings generally featured only red wines, though we were sometimes able to try various white wines.
On a sunny winter day we were greeted by Signora Deborah Cesari, daughter of the current owner Franco Cesari, and Export Manager of the winery. She and her able assistant, Hospitality Manager Viviana Stagni, led the tour of the winery which ended as usual in their spacious tasting room. (Not all wineries in Italy have tasting rooms on the par with those in the U. S.).
The first wine served was a 2014 Valpolicella Ripasso Mara, a 13.5% alcohol DOC Superiore that consisted of 75% Corvina Veronese, 20% Rondinello and 5% Molinara. The wine was aged for one year, 80% in Slovanian oak casks and 20% in French tonneaux. After this it stood in bottles for six months. The result was a wine that was deep garnet in color with a light bouquet. It finished medium and smooth. A nice wine I rated this wine an 89.
Our second wine was a 2013 Valpolicella Ripasso Bosan Reserva, a 14% alcohol DOC Superiore. The Bosan Ripasso consisted of 80% Corvina Veronese and 20% Rondinello. It was aged for 12 months in French oak barriques and 6 months in Slovanian oak casks. The wine was a deep garnet in color with a smoke bouquet. It finished long and very smooth. I found it well balanced and more rounded in taste. I liked this wine and gave it a 90 rating.
Next we tried a 2012 Jema, a 13.8% alcohol IGT that was 100% Corvina grapes from one of the four Cru vineyards identified by Cesari. This wine was aged for 18 months in Franch oak tonneaux followed by 6 months in oak casks. The result was a wine that again was dark garnet in color with a light bouquet. The finish was medium and the taste was lighter but elegant and fresh. I rated this wine an 89.
Then we moved to the heart of the tasting, the Amarones.
Perhaps a brief explanation of the process for making Amarone is in order. The best grape clusters are picked first and placed in wooden or today plastic open crates to allow air flow through the grapes. These crates are placed in drying rooms with copious air flow for three to four months during which time 30-40% shrinkage occurs with corresponding increase in sugar content. The grapes are then pressed and the normal fermentation begun. The skins are removed and then the normal Valpolicella wine is passed over the skins to make Valpolicella Ripasso. These wines normally age for 5-6 years before being offered to the public.
At our tasting, we first tried a 2012 Amarone Della Valpolicella Classico DOCG made from 75% Corvina Veronese, 22% Rondinello and 3% Molinara. The color was a lighter garnet and the nose very light. The wine finished long and smooth. I rated this wine a 90.
The 2013 version of this wine followed. It had the same blend of grapes, was a bit darker in color and had a more rounded nose. The finish was again long and smooth, the taste was more elegant. I preferred this over the 2012 and rated it a 91.
Next we tried the single cru Amarones. The first was the 2007 Amarone Della Valpolicella Classico Riserva Bosan DOC. The 15% alcohol wine is a blend of 80% Corvina Veronese and 20 % Rondinello. The color was a true garnet and the nose was slightly leather. The finish was long, smooth and really nice. An excellent example of Amarone, I rated this wine a 93.
Last and certainly not least was another cru Amarone, a 2009 Amarone Della Valpolicella Classico Il Bosco. Again, a blend of 80% Corvina Veronese and 20 % Rondinello, however from a different vineyard, this 15.5% alcohol wine was garnet in color with a very pleasant nose. It finished long and very smooth. To me it was slightly more elegant than the Bosan and I rated this superb wine a 94.
Though the official tasting was completed, we were afforded the opportunity to taste some of Cesari's white wines with the delicious lunch they provided. I thought that Cesari's Nibai Soave was excellent and their Pinot Grigio as well.
All of the Valpolicella wines should be decanted for at least an hour – and the Amarones even longer. They should be served at 18-20°C and the Amarones eaten with heavier red meats or even served after the meal as a "digestivo."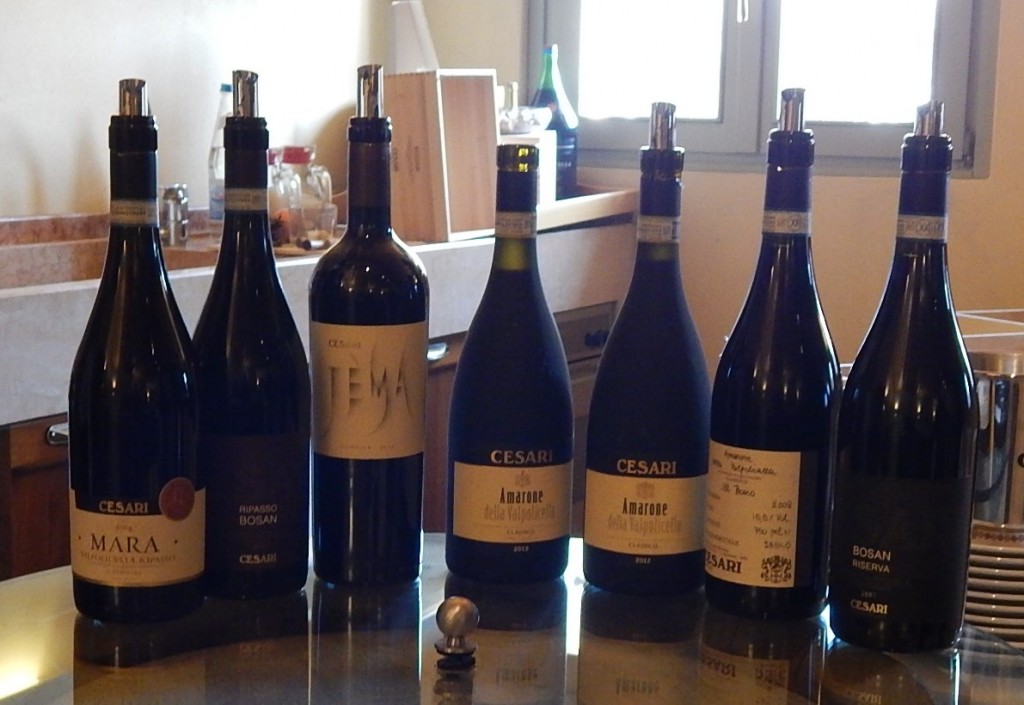 Cesari wines are imported in the USA by Siena Imports on the West Coast and Opici Wines on the East Coast. You will not go wrong with the Cesari wines.
My thanks to the Cesari family and their staff for making this visit so enjoyable.