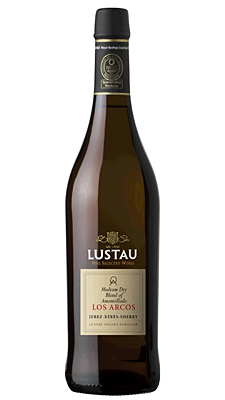 Rich, full walnut aromas, a mix of fresh-cracked walnuts and Nocino Italian walnut liqueur, with a piquant back note of lemon. Nuts and tangy lemon carry over on the palate, light brown-sugar sweetness more than overpowered by sharp acidity. Hints of dark chocolate join walnuts and citrus in the flavor with a touch of alcoholic heat, a complex wine that opens up remarkably with cheese or other unctuous food match. Labeled "Solera Familiar," Lustau's good but relatively affordable range; 18.5% alcohol. U.S. importer: Europvin USA, Van Nuys, Calif. (Oct. 23, 2017)
FOOD MATCH: We found it just a bit hot for sipping on its own, but buttery cheeses worked a miracle, softening its sharpness and heat while bringing up the nutty, dark-chocolate flavors.
WHEN TO DRINK: There's no rush to open the bottle, and you can even keep it for some time after the bottle has been opened, althought I'd try to finish it in weeks, not months.
VALUE:
My local price was a good jump above Wine-Searcher.com's $17 average U.S. retail. With many vendors offering it below the middle teens, I'd shop around if possible.
WEB LINK
Here is Lustau's fact sheet on "Los Arcos" Amontillado, and this is the importer's info sheet on the wine.
FIND THIS WINE ONLINE:
Find vendors and compare prices for Lustau Amontillado "Los Arcos" on Wine-Searcher.com.