The other night, with partial bottles of Pedro Ximenez Cream Sherry, Rainwater Madeira and two Amontillado Sherries looking at me on the shelf, I suddenly had a wild idea: What would it be like to build these fortified wines into cocktails?
Since autumn has finally, belatedly started to show its signs around here, I've been in the mood for the warmth of such wines: Sherry, Madeira, Port. Hence the collection of half-full bottles to inspire this flight of fancy.
These wines are called "fortified" because strong brandy is added during fermentation, a process that can retain sweetness in the wine by killing off the active yeast before all of the fruit sugars have been converted to alcohol. This addition also helped protect the wine from deterioration during long shipment to faraway markets in older times, before refrigeration was invented.
That's not much of an issue nowadays, but the fortified style remains popular both because its finer examples will withstand long cellaring, and because they taste good, warming and comforting on cool autumn and chilly winter evenings.
It's also convenient that its strength and natural oxidation generally makes it possible to keep the leftover wine in good condition in the recorked bottle for at least a week or two, making it easy to enjoy over several evenings. (And yes, before we start joking about there being no such thing as leftover wine, a small glass, or possibly two, of these robust beverages with alcohol levels at 18 to 20 percent is generally enough.)
So, in an age when cocktails have become popular again, had anyone ever thought of working the remnants of fortified wines into an interesting mixed drink? I summoned Prof. Google, and sure enough, this concept has been around for a long time. Sherry Cocktails Are Your New Secret Weapon, declared a 2015 article in Esquire, reporting that the concept has been around since the 19th century at least. Imbibe magazine, building up to a 2013 New York City Sherry Fest, offered Six Sherry Cocktails.
Playing around with leftover Sherry and Madeira and ingredients from my simple bar, I tried two classic models, and I can tell you that the concept is worth a try, when you're in the mood for something a little different.
Here's a quick look at both. If you like this idea and are tempted to fashion something new, I'd love to hear from you, via our online WineLovers Discussion Group or our WineLovers Facebook Page.
The Tuxedo, adapted by Imbibe from a 1931 book, "Old Waldorf Bar Days," is essentially a "wet" martini with Sherry (or, I think, Madeira or even Tawny Port if you prefer) substituted for the vermouth. They suggested dry Fino Sherry, but I went with something richer: Two parts gin, one part Leacock's "Rainwater" Madeira, and a splash of Fee's orange bitters, shaken with ice, made a clear golden drink a shade lighter than a standard martini, with a pleasant nutty flavor dancing with the gin's botanicals and the citrusy bitters.
The Adonis, created in the 1880s in honor of the first Broadway musical to run for more than 500 performances, is a distant, lighter cousin of the Manhattan, using a warm, sweet Sherry in place of the stronger bourbon or rye. It calls for equal parts Sherry (I used Alvear Cream Pedro Ximenez) and sweet red vermouth (Cocchi di Torino) with a few drops orange bitters chilled with ice. It's a sweet combo, an after-dinner drink, but the flavors worked and played well.
Below you'll find my notes on two more Sherries, a pair of Amontillados at different price points. You can detect the complexity that comes with price and quality in the bottling from Lustau, but to be honest, the smooth, drinkable version from Wisdom & Warter for several dollars less deserves your attention.
Today's Sponsor:
Ready for Holiday Entertaining?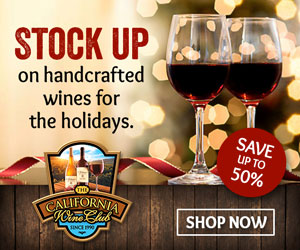 Be ready with small-batch, artisan wines, yours for up to 50 percent off winery suggested retail prices from The California Wine Club. Thanksgiving is right around the corner, and the whirl of holiday festivities continues until New Years.
We recommend having these wines on hand:
• Pinot Noir and Sauvignon Blanc or crisp Chardonnay for Thanksgiving.
• Festive sparkling wines to pair with appetizers and desserts.
• Zinfandel is the right wine with cranberries.
• Rich Cabernet is perfect by the fire on a chilly night.
Shop Now
About The California Wine Club
There are thousands of small family wineries handcrafting extraordinary wine in quantities too limited to be found in local stores or shops. In 1990 The California Wine Club Founders Bruce and Pam Boring discovered that these winemaking families were the most passionate in the wine world and that their wines were the hidden gems of wine country! Together Bruce and Pam embarked on a journey to help these artisan wineries introduce their exquisite wines to the world.Learn more.
www.cawineclub.com 1-800-777-4443
Today's Tasting Reports
Lustau Amontillado "Los Arcos" ($21.99)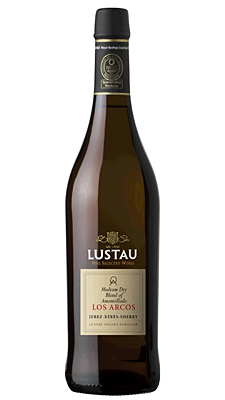 Rich, full walnut aromas, a mix of fresh-cracked walnuts and Nocino Italian walnut liqueur, with a piquant back note of lemon. Nuts and tangy lemon carry over on the palate, light brown-sugar sweetness more than overpowered by sharp acidity. Hints of dark chocolate join walnuts and citrus in the flavor with a touch of alcoholic heat, a complex wine that opens up remarkably with cheese or other unctuous food match. Labeled "Solera Familiar," Lustau's good but relatively affordable range; 18.5% alcohol. U.S. importer: Europvin USA, Van Nuys, Calif. (Oct. 23, 2017)
FOOD MATCH: We found it just a bit hot for sipping on its own, but buttery cheeses worked a miracle, softening its sharpness and heat while bringing up the nutty, dark-chocolate flavors.
WHEN TO DRINK: There's no rush to open the bottle, and you can even keep it for some time after the bottle has been opened, althought I'd try to finish it in weeks, not months.
VALUE:
My local price was a good jump above Wine-Searcher.com's $17 average U.S. retail. With many vendors offering it below the middle teens, I'd shop around if possible.
WEB LINK
Here is Lustau's fact sheet on "Los Arcos" Amontillado, and this is the importer's info sheet on the wine.
FIND THIS WINE ONLINE:
Find vendors and compare prices for Lustau Amontillado "Los Arcos" on Wine-Searcher.com.
Wisdom & Warter Extra Amontillado Sherry ($11.99)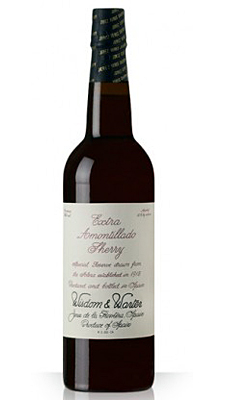 Clear copper-bronze color, almost a pale orange hue. A mix of cracked walnuts, pecans, hazelnuts, and a distinct hint of lemon show on the nose and palate. It's nutty and full-bodied in flavor, with medium-level sweetness well balanced by sharp, zingy acidity that lingers on the sides of your tongue. It carries its 20 percent alcohol well, with mixed nuts and tart citrus lingering in a very long finish. According to the label, "Special reserve drawn from the solera established in 1912." U.S. importer: Excelsior Wine and Spirits, Old Brookville, N.Y. (Oct. 21, 2017)
FOOD MATCH: Its firm acidity over soft sweetness invites a fatty food companion such as mixed cheeses to soften its edges. The winery also suggests unspecified soups or salads, and suggests it for aperitif use chilled or even over ice.
WHEN TO DRINK: There's no rush with sweeter Sherries, which can hold up for years without either evolution or loss of quality in the bottle.
VALUE:
For once, my local price is a couple of bucks below Wine-Searcher.com's $13 average retail. If you like this style of sweet but tart Sherry, it's a good deal anywhere near that price.
WEB LINK
U.S. importer Banfi offers this fact sheet on Wisdom & Warter Extra Amontillado Sherry
FIND THIS WINE ONLINE:
Find vendors and compare prices for Wisdom & Warter Extra Amontillado Sherry on Wine-Searcher.com.
Here's a list of all Wisdom & Warter's wines and merchants on Wine-Searcher.com.
Wine Forum and Social Media
If you have questions, comments or ideas to share about today's article or wine in general, you're always welcome to drop by our online WineLovers Discussion Group, the Internet's first and most civil online community.
Discussions are open for public viewing, but you must register to post. If you're a Facebook user, you can join our forum with a single click! All you need to do is visit the forum and click "Social Login" at upper right.
We'd also be delighted to have you "Like" our WineLovers Facebook Page. This way you can get Facebook notifications when there's a new The 30 Second Wine Advisor issue or a topic of particular interest on the WineLovers Discussion Group (WLDG).
Subscriptions and Administrivia
Unsubscribe:
We're sorry if you must leave us, but simply click the "unsubscribe" link at the bottom of your Email edition to be instantly removed from the mailing list.
Change address:
The quickest and easiest way to change your email address is simply to unsubscribe from your old address and register again from the new one: Subscribe to The 30 Second Wine Advisor (free).
Read 18 years of past articles in the Wine Advisor Archives.
Sponsorship Opportunities:
For information, email Robin Garr at wine@wineloverspage.com