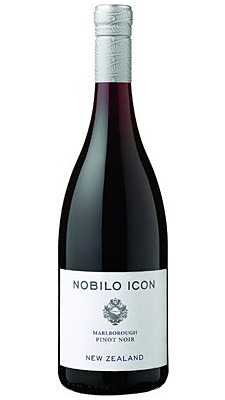 Rather dark ruby in color, with reddish-orange glints against the light. Mixed fruits, blackberries and plums and red and black cherries, with a distinct but not overwhelming edge of warm, spicy oak. Mouth-filling fruit and good body on the palate, red and black fruit and gentle spice over tart acidity, with soft tannins becoming more apparent in the long finish. Moderate 13% alcohol doesn't intrude. U.S. importer: Constellation Imports, Gonzales, Calif. (Nov. 2, 2017)
FOOD MATCH: Lamb; salmon or tuna, mushroom and cheese dishes are its natural territory for matching, but like most Pinot, it's versatile. It worked nicely here with a simple Tuscan dish of large white beans (Royal Coronas from Rancho Gordo) drizzled with good olive oil, kosher salt and black pepper; thin slices of Parmigiano Reggiano alone made it sing.
WHEN TO DRINK: No rush, particularly with the stout metal cap, but I don't see it as a Pinot with long-term aging potential. Drink up over the next few years.
VALUE:
Wine-Searcher.com's $20 average U.S. retail is on the steep side, but it can be found widely in the middle teens, at which point it's a very good value. Check Wine Searcher for good buys at sources convenient for you.
WEB LINK
Here's a fact sheet on Nobilo Icon Marlborough Pinot Noir from the winery website.
FIND THIS WINE ONLINE:
Find vendors and compare prices for Nobilo Icon Marlborough Pinot Noir on Wine-Searcher.com.