Castaño Sierra Salinas 2012 "Mo" Alicante Monastrell ($10.99)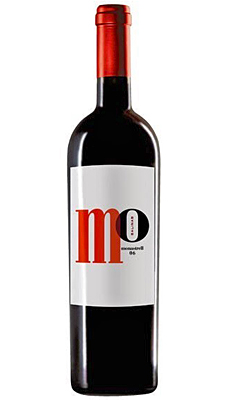 Dark garnet, with scarlet glints against the light. Simple but appealing, black plum aromas with an earthy back note reminiscent of "tree bark," a description I often associate with Mourvèdre/Monastrell. Medium-bodied and crisply acidic, it adds a touch of raspberry on the palate, framed by gentle tannic astringency. It carries its 14% claimed alcohol well; I was surprised to see the alcohol level on the label after tasting. A blend of 30-year-old Monastrell (85%), Cabernet Sauvignon (10%), and Garnacha Tintorera (5%), it gets a touch of wood from four months in barrels. U.S. importer: Europvin USA, Van Nuys, Calif. (Jan. 17, 2018)
FOOD MATCH: Its simple, earthy fruit suggests a pairing with roast chicken, duck or even goose, or cheese-based entrees like macaroni and cheese or pasta Alfredo made with good, robust cheeses. I tested this hypothesis with a leftover Welsh Rabbit sandwich on sourdough from a local Irish pub and found it right on point.
WHEN TO DRINK: It's not a wine made for aging, and its slick-sided foam plastic stopper doesn't inspire confidence in the cellar. This bottle was fine now, but I wouldn't keep any leftover 2012 bottles for much longer.
VALUE:
It's a fine value at Wine-Searcher.com's $12 average U.S. retail.
WEB LINK
This brief information page from the winery also offers the option of buying the wine (in Europe) for 5,34 € per bottle.
This fact sheet from importer Europvin offers information about "Mo" Monastrell and other Sierra Salinas wines.
FIND THIS WINE ONLINE:
Check prices and locate vendors for Salinas "Mo" Alicante Monastrell on Wine-Searcher.com.
Review this Wine-Searcher.com information page on Alicante for many more wines – including many affordable Monastrells – from the region.
Torres 2013 "Altos Ibéricos" Rioja Crianza ($14.99)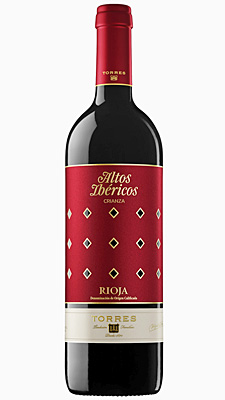 "Crianza" signals an oak-aged Rioja, and this model, 100 percent Tempranillo, spends a full year in barrel. Dark garnet with a bronze edge, it offers tart cherries on the nose and palate, opening up to a dark earthy minerality. Very dry, very acidic, 13.5% alcohol claimed; there's an edge of soft, palatable tannins in the finish. U.S. importer: Ste. Michelle Wine Estates, Woodinville, Wash. (Jan. 6, 2018)
FOOD MATCH: It should be a versatile table wine for carnivores, but it seems particularly well suited for grilled chicken. It would also go well with roast vegetables or bean-and-cheese entrees.
WHEN TO DRINK: As it enters its fifth year after the vintage, I wouldn't cellar it indefinitely. Save the more pricey single-vineyard Riojas for the cellar and enjoy this one with dinner soon.
VALUE:
It's not a bad deal at my local mid-teens price, but shop around, as Wine-Searcher.com lists a $12 average retail, and a few shops offer it for less than $10.
WEB LINK
Click here for Torres' fact sheet (PDF) on the Rioja Crianza.
FIND THIS WINE ONLINE:
Find vendors and compare prices for Torres "Altos Ibéricos" Rioja Crianza on Wine-Searcher.com.
Altovinum 2014 "Evodia" Varietal de Aragon Red Wine ($10)
Dark reddish-purple almost all the way to a clear edge. Ripe raspberry scent, typical of Garnacha/Grenache, carries over to a tart, dry red-berry and plum flavor with a higher-tone raspberry note like Chambord liqueur. Zippy acidity and soft tannins linger in a moderate finish. A custom cuvee for Eric Solomon, it's made from old vines Garnacha grown in high altitude slate soils. It's definitely in the "New World" style of forward fruit and hulking 14.5% claimed alcohol, but it manages to hold on to its balance. U.S. importer: European Cellars LLC, Charlotte, NC.; Eric Solomon Selections. (Jan. 6, 2018)
FOOD MATCH: It's a wine made for red meat, but the Maillard reaction, the delicious caramelizing that comes with browning, brought a platter of assorted mixed root vegetables up to meet it.
WHEN TO DRINK: It's not a long-term ager, but it should be good for another few years under good storage conditions.
VALUE:
If you like this assertively fruity style, you'll find this one a great bargain at Wine-Searcher.com's $10 average retail. A few vendors list prices as low as less than $7!
WEB LINK
Here's an Evodia fact sheet from importer European Cellars.
FIND THIS WINE ONLINE:
Find vendors and compare prices for Altovinum"Evodia" on Wine-Searcher.com.
Lustau East India Solera Cream Sherry ($31.99)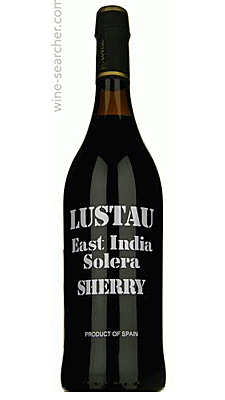 Clear, dark bronze color with flashes of gold. Attractive, rather complex Sherry aromas, a base of walnuts with brown sugar, caramel and touches of meyer lemon. The flavor is consistent, flavors of dried plums joining the scents; it's distinctly sweet from the Pedro Ximenez but adds plenty of steely, palate-freshening acidity and an edge of tannin to keep the sweetness fully contained in a sturdy structure. A blend of 80 percent Palomino and 20 percent Pedro Ximénez, it's 20% alcohol, a standard level for fortified Sherries. U.S. importer: Europvin USA, Van Nuys, Calif. (Jan. 17, 2018)
FOOD MATCH: The winery suggests serving it with light desserts and cakes, creamy cheeses or even foie gras. And, they say, "try it also on the rocks with a slice of orange, simply delicious."
WHEN TO DRINK: On the one hand, there's no hurry to drink sweeter-style Sherries. They last forever. On the other hand, there's no real benefit in cellaring them, as they won't evolve in the bottle. Buy it, enjoy it.
VALUE:
My local price is a significant jump over Wine-Searcher.com's $26 average U.S. retail, and many Wine-Searcher.com vendors list it in the lower $20s. It's still a fine sweet Sherry, though, and I'd buy it again.
WEB LINK
Here's Emilio Lustau's fact sheet on the Lustau East India Solera.
Click here for an importer's summary of Emilio Lustau and its wines.
FIND THIS WINE ONLINE:
Find vendors and compare prices for Lustau East India Solera on Wine-Searcher.com.