We're five days into the New Year. Have you given up on any of your resolutions yet?
New Year's resolutions, after all, rank among the most quickly abandoned of human commitments, to the extent that many of us have given up on even trying to establish new, better, behaviors when the old year's last calendar page is torn off and discarded.
So, let's not make firm wine resolutions. There's no need. Still, the start of a new year offers us a good opportunity to look at our enthusiasm for wine and consider … let's call them directions … that we might take in our wine exploration in the next twelve months.
I'll tell you a few of mine. Then I invite you to drop by our WineLovers Discussion Group forum or our WineLovers Facebook Page and tell us about yours.
• Staying under budget. Right off the bat, I hope to redouble my commitment to keeping my wine budget under control. The quest for "QPR" – quality-price ratio – has always been my guide, but the threshold price for good, interesting wines seems to continue going upward. The $10 limit is disappearing in the rear-view mirror, and $15 or even $20 is emerging as the lower limit for table wines that go beyond "average" or even "boring." I'll be honest, I can't afford to drink wine with dinner every day at those prices. This is hard for a wine lover to say, but I'm finding a cocktail or a glass of Bourbon or Scotch a more affordable option for my adult beverage than wine. I'll keep looking, though, and be assured that I'll share my best-value discoveries with you.
• Keeping my wine horizons broad. Another sad wine trend has been the evolution of so many world wine regions toward big, hyper-fruited, high-alcohol, oak-scented monsters, an evolution that has even taken over less pricey wines from many parts of the world. I can, and do, go back to my old favorite wine regions, particularly Southern France and Northern Italy, for wine styles that I'll enjoy. But I can't give up the rest of the world, and I commit to continue exploring in search of balanced, complex wines from, well, everywhere.
• Consciously enjoying wine with food. Nothing new here, but I plan to continue, and re-emphasize, my preference for wine as part of dinner, not a separate drink but a significant element in my enjoyment at the dinner table. Wine enhances flavors, aids digestion, and truly serves as one of the key ingredients in the meal. It's worth taking as much time to consider the wine-and-food match as we spend deciding what to eat for dinner.
• Exploring the grape. Even if I've already qualified repeatedly for The Wine Century Club by tasting wines made from 100 grape varieties, it's always fun to discover another. Maybe this will be the year that I get to try a Cserszegi Fuszeres!
• More fortified wines. It's been a record cold first week of January around here, and I can't think of a wine that says "warm your bones" any more effectively than a rich, warming fortified wine. Whether it's a toothache-sweet Pedro Ximenez or a bone-dry style of Rainwater Madeira, even a small after-dinner glass can help banish the wintry shivers.
Here are my tasting notes on a good, widely available medium-dry Madeira. Enjoy!
Today's Tasting Report
Broadbent Reserve Madeira 5 Years Old ($24.99)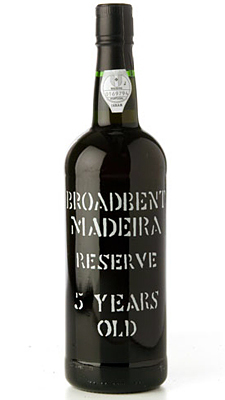 Clear, dark copper color with glints of gold. Pleasant scents of meyer lemon, walnuts and pecans lead into a full, rich mixed-nut flavor with tart, lemony acidity holding light fresh-fruit sweetness in balance; its 19% alcoholic warmth fills the mouth in a long, pleasant finish that goes on and on. U.S. importer: Broadbent Selections Inc., Sonoma, Calif. (Dec. 31, 2017)
FOOD MATCH: Best sipped alone or with creamy cheeses, although French onion soup would make an interesting match.
WHEN TO DRINK: Madeira is essentially ageless. Buy it, drink it, enjoy it, but don't worry if it gets "lost" in your cellar for a few months or years.
VALUE:
Wine-Searcher.com's $24 average retail, consistent with my local price, is a fine value for this excellent Madeira.
WEB LINK
Here's the importer's information sheet on Broadbent Madeira. Click here for a more detailed fact sheet on the 5 Year Old Reserve.
FIND THIS WINE ONLINE:
Find vendors and compare prices for on Wine-Searcher.com.
For much more about Madeira, read this Wine-Searcher info page. After the article you'll find an extensive list of Madeira wines and vendors.
Wine Forum and Social Media
If you have questions, comments or ideas to share about today's article or wine in general, you're always welcome to drop by our online WineLovers Discussion Group, the Internet's first and most civil online community.
Discussions are open for public viewing, but you must register to post. If you're a Facebook user, you can join our forum with a single click! All you need to do is visit the forum and click "Social Login" at upper right.
We'd also be delighted to have you "Like" our WineLovers Facebook Page. This way you can get Facebook notifications when there's a new The 30 Second Wine Advisor issue or a topic of particular interest on the WineLovers Discussion Group (WLDG).
Subscriptions and Administrivia
Unsubscribe:
We're sorry if you must leave us, but simply click the "unsubscribe" link at the bottom of your Email edition to be instantly removed from the mailing list.
Change address:
The quickest and easiest way to change your email address is simply to unsubscribe from your old address and register again from the new one: Subscribe to The 30 Second Wine Advisor (free).
Read 18 years of past articles in the Wine Advisor Archives.
Sponsorship Opportunities:
For information, email Robin Garr at wine@wineloverspage.com