I thought I was a wine-grape nerd beyond redemption, but I've more than met my match in the wine and spirits writer Jason Wilson.
Wilson's delightful new book, Godforsaken Grapes: A Slightly Tipsy Journey through the World of Strange, Obscure, and Underappreciated Wine, just landed in my Kindle app yesterday, and I've been chuckling and snorting my way through it ever since.
It's not often that you get a wine book that's both wacky and informative, a light but not inconsequential read that has plenty to teach us about the amazing world of wine grapes beyond the 20 most common grape varieties.
"While 1,368 wine grape varieties may exist," Wilson writes, "the sad truth is that 80 percent of the world's wine is produced from only 20 grapes. Many of the other 1,348 varieties face extinction."
In Godforsaken Grapes, Wilson takes us along on a world tour aimed at discovering – and telling us about – as many of those offbeat grapes as he can. Along the way, he shares the story of his own wine journey, pointing out this key realization that led him away from the usual quest for the finest of the few varieties generally recognized as "best":
"Wine is not a ladder to climb, as we're so often taught. Not even close. Wine is a maze, a labyrinth, one we gladly enter, embracing the fact that we don't know where it will take us, and that we'll likely never find our way out. As I trekked deeper into the maze, I veered away from the so-called Serious Wines, moving further off the beaten path. A larger, more exciting world of wine opened up to me. I began spending more time with grapes like godello from Galicia or teroldego from the Italian Dolomites or vranec from Macedonia or trousseau from Jura or schioppettino from Friuli-Venezia Giulia. Or many, many others."
I can relate, having followed a similar path in my own journey toward multiple-level membership in The Wine Century Club.
Wilson, though, tells his tale in language that's colorful, descriptive, and can't help but make you laugh. Consider these snippets:
"A glass of humagne blanche … tasted strange and big and sexy, full of ripe exotic fruit, surrounded by delicate floral aromas – sort of like mountain flowers picked by a Kardashian wearing a dirndl."
Also …
"Himbertscha is one of the strangest white wines I have ever tasted – like a forest floor of moss and dandelions that's been spritzed with lemon and Nutella."
Godforsaken Grapes is well worth a read. As its online publicity describes it, "Wilson moves far beyond the 'noble grapes,' hunting down obscure and underappreciated wines from Switzerland, Austria, Portugal, France, Italy, the United States, and beyond. In the process, he looks at why these wines fell out of favor (or never gained it in the first place), what it means to be obscure, and how geopolitics, economics, and fashion have changed what we drink. A combination of travel memoir and epicurean adventure, Godforsaken Grapes is an entertaining love letter to wine."
Buy it now from Amazon.com for $19.29 in hardcover, a $6.71 (26 percent) saving from its $26 list price. You can also start reading it immediately in Kindle for $9.99.
At the other end of the scale of majesty and gravitas in wine-grape books, if you've got the wherewithal to make it happen, take a look at the world's heaviest and most comprehensive tome on the subject. It's the encyclopedic Wine Grapes: A Complete Guide to 1,368 Vine Varieties, Including Their Origins and Flavors, by Jancis Robinson, Julia Harding, and Jose Vouillamoz, a botanist who we meet in the pages of Wilson's book.
Wine Grapes: A Complete Guide, sells for a hefty v$110.13 in hardcover from Amazon.com, but that's a 45 percent discount from its $199.99 list price, an $89.86 saving. The Kindle edition drops the toll to $38.49. I want that book, but I'm still wrestling with whether I want it enough to pay for it. If you succumb, please let me know what you think!
Today's Sponsor:
A Special Mother's Day Gift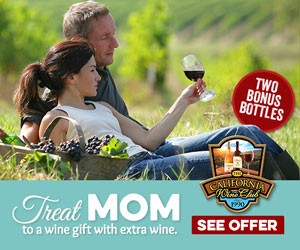 The California Wine Club will include two bonus bottles of handcrafted wine when you treat Mom to a gift membership. Each month, she'll receive two award-winning wines and discover a different artisan winery. Send as many gift months as you wish. Gifts also include a $25 wine credit.
See Offer
This offer expires June 30, 2018.
About The California Wine Club
There are thousands of small family wineries handcrafting extraordinary wine in quantities too limited to be found in local stores or shops. In 1990 The California Wine Club Founders Bruce and Pam Boring discovered that these winemaking families were the most passionate in the wine world and that their wines were the hidden gems of wine country! Together Bruce and Pam embarked on a journey to help these artisan wineries introduce their exquisite wines to the world. Learn More.
www.cawineclub.com 1-800-777-4443
Today's Tasting Reports
Our WineLovers Discussion Group forum's monthly Wine Focus turns to the Northwest of North America. We're looking for good wine, and good value wines, from Washington State, Oregon, Idaho, and British Columbia, and you're invited to join the conversation. Try a wine or two, and bring your comments and questions to Wine Focus for May 2018: Northwest of North America.
Here's my first look, an inviting Oregon Pinot Noir that's competitive in price for its genre at a buck or two under $20. Below that, one more modest Italian red from last month's Wine Focus.
Union Wine Co. 2016 Kings Ridge Willamette Valley Oregon Pinot Noir ($18.99)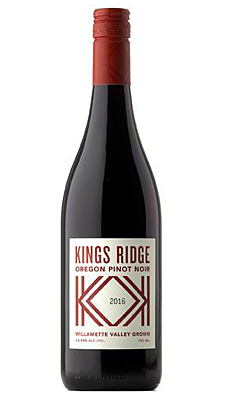 Clear dark ruby, with reddish-violet glints against the light. Fresh cherry-berry aromas are joined by an attractive scent of roses after a little time in the glass. Mouth-filling and ripe, cherry-berry fruit flavors follow the nose, well structured with bright acidity and just a whiff of soft tannins. Evolves in the glass into good Pinot Noir varietal character, a good value example of the Oregon style. Full but not overly alcoholic at 13.9 percent. (May 3, 2018)
FOOD MATCH: The obvious pick is rare red meat or grilled poultry; it would be particularly winning with roast duck. Cheese is another option. It was excellent after dinner with slices of Wisconsin Sartori Sarvecchio, a surprisingly persuasive American homage to Parmigiano Reggiano.
WHEN TO DRINK: Pinot Noir is unpredictable in the bottle, but with this one's good balance and airtight metal screw cap, I wouldn't worry about finishing it up over the next two or three years.
VALUE:
Wine-Searcher.com's $18 average retail matches the winery price and beats my local toll by a buck.
WEB LINK
Here's a brief winery fact sheet on the Kings Ridge Pinot Noir.
FIND THIS WINE ONLINE:
Check prices and find vendors for Union Wine Co. Kings Ridge Willamette Valley Oregon Pinot Noir on Wine-Searcher.com.
You can also buy direct from the winery, where the law permits, by using this shopping cart link.

Also, one more good, food-friendly, modestly priced Italian red:
Gran Conti 2016 Montepulciano d'Abruzzo ($9.99)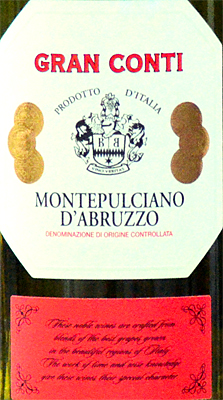 Dark purple, almost black, shading to a thin garnet rim. high-tone cherries and blackberries on the nose with a hint of spice in the background. Tart plums and berries on the palate, shaped by zippy acidity, with a buzz of tannins becoming more evident in the finish. Alcohol not disclosed, but it's clearly in the normal 12-13 percent range. U.S. importer: Prestige Wine Group, Princeton, Minn. (April 28, 2018)
FOOD MATCH: The back label suggests pairing it with aged cheeses, lamb, or roasted red meats. It went well, too, with pasta dressed with a fresh, spicy tomato sauce and crumbled Impossible Burger.
WHEN TO DRINK: It's not meant for aging, but there's no rush to drink it. Enjoy it at your leisure.
VALUE:
My local price is consistent with Wine-Searcher.com's $10 average retail. Typical of Montepulciano d'Abruzzo, it's a fine value.
FIND THIS WINE ONLINE:
Only a few U.S. vendors currently offer Gran Conti 2016 Montepulciano d'Abruzzo on Wine-Searcher.com, but keep checking.
You can also browse Wine-Searcher.com for dozens of other good wines of Montepulciano d'Abruzzo.
More affordable wines
Want tips to more good, inexpensive wines? Here are Wine-Searcher links to vendors and prices for a bunch more wines for $10 or less that I've told you about during the past few months. Please tell us about your favorites!
Wine Forum and Social Media
If you have questions, comments or ideas to share about today's article or wine in general, you're always welcome to drop by our online WineLovers Discussion Group, the Internet's first and most civil online community.
Discussions are open for public viewing, but you must register to post. If you're a Facebook user, you can join our forum with a single click! All you need to do is visit the forum and click "Social Login" at upper right.
We'd also be delighted to have you "Like" our WineLovers Facebook Page. This way you can get Facebook notifications when there's a new The 30 Second Wine Advisor issue or a topic of particular interest on the WineLovers Discussion Group (WLDG).
Subscriptions and Administrivia
Unsubscribe:
We're sorry if you must leave us, but simply click the "unsubscribe" link at the bottom of your Email edition to be instantly removed from the mailing list.
Change address:
The quickest and easiest way to change your email address is simply to unsubscribe from your old address and register again from the new one: Subscribe to The 30 Second Wine Advisor (free).
Archives:
Read nearly 20 years of past articles in the Wine Advisor Archives.
Sponsorship Opportunities:
For information, email Robin Garr at wine@wineloverspage.com