Summer took its time getting here this year, but it's now running full blast, so it's time for the annual public service announcement:
Don't leave anything that you love inside a parked car in summer's heat!
There's been enough publicity by now about people who left a child or a pet in a hot car and came back to find a broken window and an angry crowd that I think most people have too much sense to make that mistake.
But on a more trivial level that's still important to wine enthusiasts, it's worth keeping in mind that a surprisingly short stay in a hot car can damage that case of wine that you were looking forward to enjoying, too.
What's more, it doesn't have to be fiery hot outside to turn your parked car into a virtual oven.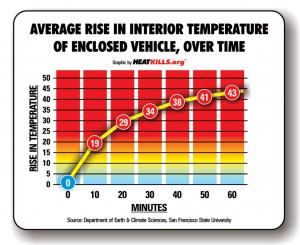 "At 70 degrees on a sunny day, after a half hour, the temperature inside a car is 104 degrees. After an hour, it can reach 113 degrees," according to HeatKills.org, a non-profit that publicizes heat dangers to dogs. "When temperatures outside range from 80 degrees to 100 degrees, the temperature inside a car parked in direct sunlight can quickly climb to 130 to 172."
We did an experiment back in 2001, placing a bottle of wine in my car parked in the sun on a 92-degree day. That was enough to bring the interior up to 120 and to shove the cork part way out of a bottle of modest California Cabernet. The wine proved to be still drinkable, but its longevity was surely compromised. I'm glad the cork didn't come all the way out or the bottle shatter.
So here's my advice: Buy your wine on the way home. Or, if you have to shop during the day, bring it inside under air-conditioning if you can. Worst case, put it in a cooler with ice, which should protect it for a few hours. But don't decide it's "probably okay" to leave it in the heat for an hour or two. That's not good for your child, your cat, or your wine.
Wine Focus: Rosé!
Speaking of summer and its heat, there's no better time than summer time to enjoy a good pink wine. We're tasting and talking about rosé wines this month in our WineLovers forum's Wine Focus. We're open to all the world's pink wines, so open the bottle of your choice and come tell us about it! Your comments, tasting reports and questions are welcome at Wine Focus for June 2018: Rosé!
I've started the month with a couple of fine rosés from Provence. You'll find my tasting reports below.
Today's Sponsor:
Cellar Clearance Blowout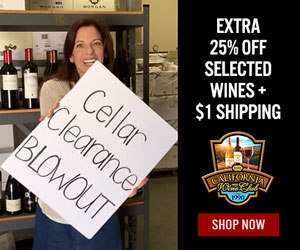 The California Wine Club is making room for new wines. Now is your chance to save with this big sale. Use promo code BLOWOUT to take an extra 25 percent off selected wines, plus get $1 shipping. See the Wines
Cellar Clearance BLOWOUT Sale ends June 15, 2018. Some restrictions may apply.
See the Offer
About The California Wine Club
There are thousands of small family wineries handcrafting extraordinary wine in quantities too limited to be found in local stores or shops. In 1990 The California Wine Club Founders Bruce and Pam Boring discovered that these winemaking families were the most passionate in the wine world and that their wines were the hidden gems of wine country! Together Bruce and Pam embarked on a journey to help these artisan wineries introduce their exquisite wines to the world. Learn More.
www.cawineclub.com 1-800-777-4443
Today's Tasting Reports
Hecht & Bannier 2017 "H&B" Côtes de Provence Rosé ($19.99)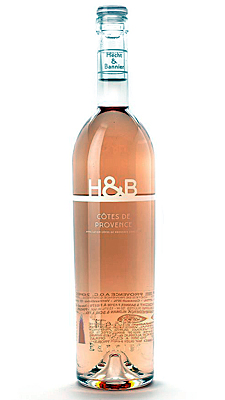 Clear, light peach color with a light, pleasant scent of fresh strawberries at first, carrying over intact to a tart, zippy and bone-dry flavor. Give it time and let it warm a little and it becomes surprisingly complex for a rosé, adding notes of watermelon and kiwi, with a touch of subtle white flowers that becomes more evident in the finish. It's a typical southern French blend of Grenache, Cinsault and Vermentino in proportions that vary with the vintage; 13.5 percent alcohol. U.S. importer: Frederick Wildman & Sons Ltd., NYC. (May 30, 2018)
FOOD MATCH: The winery suggests sipping it in their garden, or pairing it with a fougasse (a distant French cousin to focaccia), anchovies and Provence olives. We enjoyed it with hot Italian Beyond Sausage, tomato sauce, and burrata over bucatini.
WHEN TO DRINK: Good balance and an airtight glass apothecary-style stopper will help preserve it, but rosé generally shows best when it's young and fresh.
VALUE:
I paid a couple of dollars more for this fine Provence rosé than Wine-Searcher.com's $17 average retail, but it's an excellent pink wine worth a $20 toll.
WEB LINK
You'll find H&B fact sheets on the winery's info sheet as well as
this page from importer Frederick Wildman.
FIND THIS WINE ONLINE:
Find vendors and look up prices for Hecht & Bannier "H&B" Côtes de Provence Rosé on Wine-Searcher.com.
M. Chapoutier 2017 Bellruche Côtes-du-Rhône Rosé ($11.99)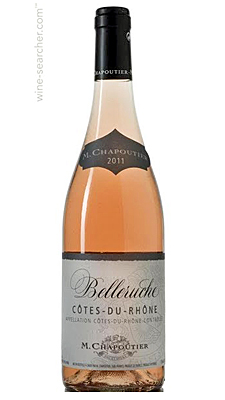 Pretty color, transparent light salmon. Clean and fresh, subtle red-berry scent with a whiff of tarragon. Crisp and dry, herbal red-fruit flavors follow the nose, lingering in a long, dry finish. A beautiful wine for a hot summer day, cooling and fresh, 13.5% alcohol, balanced with good flavor interest. U.S. importer: Terlato Wines International, Lake Bluff, Ill.; an Anthony Terlato Selection. (May 27, 2018)
FOOD MATCH: Good for sipping by itself and with picnic snack fare; it was fine with spicy Italian sausages.
WHEN TO DRINK: Good balance and a sturdy screw cap will spare it from a quick demise, but rôsé is usually best when it's young and fresh. I was happy to get this 2017 within less than a year after the vintage, and always look for the freshest available.
VALUE:
My local price conforms with Wine-Searcher.com's $11 average retail; it's a fine value at this price.
WEB LINK
Here are fact sheets on Belleruche Rosé on the importer's page and on the winery's English-language pages.
FIND THIS WINE ONLINE:
Check prices and locate vendors for Chapoutier Bellruche Côtes-du-Rhône Rôsé on Wine-Searcher.com.
More affordable wines
Want tips to more good, inexpensive wines? Here are Wine-Searcher links to vendors and prices for a bunch more wines for $10 or less that I've told you about during the past few months. Please tell us about your favorites!
Wine Forum and Social Media
If you have questions, comments or ideas to share about today's article or wine in general, you're always welcome to drop by our online WineLovers Discussion Group, the Internet's first and most civil online community.
Discussions are open for public viewing, but you must register to post. If you're a Facebook user, you can join our forum with a single click! All you need to do is visit the forum and click "Social Login" at upper right.
We'd also be delighted to have you "Like" our WineLovers Facebook Page. This way you can get Facebook notifications when there's a new The 30 Second Wine Advisor issue or a topic of particular interest on the WineLovers Discussion Group (WLDG).
Subscriptions and Administrivia
Unsubscribe:
We're sorry if you must leave us, but simply click the "unsubscribe" link at the bottom of your Email edition to be instantly removed from the mailing list.
Change address:
The quickest and easiest way to change your email address is simply to unsubscribe from your old address and register again from the new one: Subscribe to The 30 Second Wine Advisor (free).
Archives:
Read nearly 20 years of past articles in the Wine Advisor Archives.
Sponsorship Opportunities:
For information, email Robin Garr at wine@wineloverspage.com