If the producer of a trophy wine that costs $135 offers a $10 wine from the same grapes and region, is the cheaper version bound to be a bargain?
---
Super Saver Wine Sale
---
To be honest, probably not. It's no secret that I'm a huge fan of modest wines that offer value exceeding their price tag … the kind of bargain that wine nerds celebrate with the acronym "QPR," short for "Quality-Price Ratio."
But I'm also a realist, and I'm well aware of two truths about commercial wine that exist in tension:
• On the plus side, a traditional wine producer with great pride in its work will carry that pride, and the craftsmanship that goes with it, to the property's entire portfolio, from the everyday table wines to the trophies.
• On the other hand, those trophy bottles command breathtaking prices not only because they can, but for more justifiable reasons: They are made from high-quality grapes grown in small vineyards with limited production and, essentially, raised and selected by hand. They are typically aged in the winery, often held for years in expensive oak barrels, adding to the real costs of production. They are produced in limited quantities and sought after, creating market competition that pushes up both the original price and after-market auction prices.
Let's turn to Tuscany for a case study at the historic Chianti producer Marchesi Antinori. Antinori may be best known for Tignanello, one of the first of Tuscany's Super Tuscan wines.
Super Tuscans, now widely known, were a new and exciting concept when Antinori and a few other Chianti producers broke with their region's ancient tradition in the early 1970s and tried mixing "forbidden" grapes like Cabernet and Merlot in with the local Sangiovese; they quit using the required percentage of white grapes in the red wine. And they even experimented with aging the wines in French oak, a true horror to patriotic Italian wine makers.
This was a classic Italian winemaking move, but one strict rule applied: If the wine wasn't made by the Chianti method, it couldn't be called Chianti, not even if it remained recognizably Tuscan in style. Such a heretical wine could not bear the sought-after "Denominazione di Origine Controllata" designation on the label, which was meant to guarantee that the wine met traditional standards for the source of its grapes and the purity of its technique.
Instead, turning necessity into a virtue, the innovative producers proudly claimed the simple "Vino da Tavola" ("Table Wine") designation that had previously been reserved for the cheapest, most basic table wines. They presented this label not as the bottom end of their portfolio but the top.
These new styles quickly captured the taste of an increasingly sophisticated wine-buying public, and the nickname "Super-Tuscan" was born.
(The Wine Advisor continues below this message from our friends at The California Wine Club.)
This week's sponsor:
Super Saver Wine Sale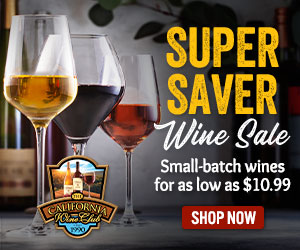 Award-winning, handcrafted wines are on sale now for as low as $10.99 at The California Wine Club. There are 10 small-batch wines each priced under $15!
All the wines are from small, working wineries, and were handcrafted by artisans who put passion into every bottling. Half, full, and mixed cases ship for just $1, plus $5 for handling, and every wine is backed by the club's Love It Guarantee.
Don't wait! Wines will sell out quickly. Shop Now
About The California Wine Club
Since 1990, The California Wine Club has been helping artisan wineries share their small-batch wines. They visit the wineries, meet the families and winemakers behind the wines, and then invite the wineries to share their favorites with wine club members. Recommended by Food & Wine, Robb Report, the LA Times, Bon Appetit, and thousands of happy customers, The California Wine Club has been the #mostloved wine club for more than 30 years.
www.cawineclub.com 1-800-777-4443
Super Tuscan for $10?
(Continued)
Frankly, it didn't take long for the old wine laws to catch up with reality. The Chianti formula itself has become much more flexible. And wines still too non-traditional for the DOC and the new, higher-level DOCG, can qualify for the "IGT" ("Indication of Geographical Type") designation, which allows just about any reasonable variation.
Most Super Tuscans have increased in retail and auction prices thanks to high demand. The 2019 Tignanello, for example, sells for an average $135 at U.S. retailers, and Sassicaia from Tenuta San Guido, which actually entered the Super Tuscan market before Tignanello, commands an average $253 U.S. retail price for the current 2020 vintage, according to Wine-Searcher's database.
Which brings us to today's featured wine: Santa Cristina Toscana. It's made by Antinori. It's arguably a Super Tuscan, adding Merlot, Cabernet, and Syrah to its Tuscan base of 60% Sangiovese. And it carries the appellation Toscana IGT on the label, exactly the same as Tignanello, Sassicaia, and the other Super Tuscans.
So, is Antinori Santa Cristina Toscana IGT a full sibling of Antinori Tignanello Toscana IGT, a virtual twin for less than one-tenth the asking price? Nope. I'm not going to tell you that, although some overly agressive wine-shop workers might, in which case I suggest that you walk quickly away. As a practical matter, as I suggested in the two bullet points above, you get what you pay for in wine, more or less. But when you pick up a bottle of Santa Cristina Toscana IGT at your favorite wine shop for something around $10 to $12, you're getting a product on which the 600-year-old Tuscan producer is willing to stamp its name, and you're getting a real, if modest, Super Tuscan. There's a lot to like about that.
What's more, if you decide to buy that 2019 Tignanello Toscana IGT, you really need to cellar it, preferably under good temperature and humidity control, until it's ready to enjoy properly in 20 years or so.
I don't drink Tignanello often, and basically never unless it's at a tasting where someone else is paying. I had such an opportunity after a spectacular trade tasting of high-end wines in October 2004, and while I enjoyed the taste, my notes on the tragically under-mature 2000 vintage, which then sold for $64, were friendly but less than enthusiastic. Here's the note:
Antinori 2000 Tignanello
Inky, black, breathing pleasant black-cherry and leather aromas with a hint of "barnyard." Ripe and full, balanced and quite tannic, needs more time. One of the first "Super Tuscans" and still one of the most popular, I'm always happy to drink "Tig," but to be honest, [if you have to drink it this young,] there's an awful lot of strong competition in this genre for $10 to $40 less.
As for the 2020 Santa Cristina, it's ready now, and it's a really good $10 wine. That works for me! Here's my tasting report.
Today's Tasting Report
Santa Cristina 2020 Toscana ($10.99)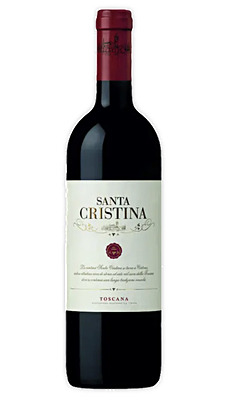 A blend of 60% Sangiovese with undisclosed amounts of Merlot, Cabernet, and Syrah, Santa Cristina Toscana is a good example of the Toscana IGT style, a modern cousin to Chianti that allows wine makers more freedom in the varieties used in the blend. Dark garnet with a clear reddish-purple edge, it offers pleasant fresh-fruit aromas of cherries, plums, and blueberries. Those dark-fruit flavors carry over in the palate, structured by food-friendly acidity and soft but lingering tannins. Fermented and aged in stainless steel vats, it sees no oak and claims 13.5% acidity. U.S. importer: Ste. Michelle Wine Estates Ltd., Woodinville, Wash. (March 1, 2023)
FOOD MATCH: The winery suggests pairing this wine with cold cuts, medium-aged cheese, meat-based pasta dishes, and light main courses. We enjoyed it with pasta with a fennel-laced Italian sausage and fresh-veggie sauce, but a traditional tomato-based meat sauce might have been even better.
WHEN TO DRINK: There's absolutely no rush. Its balance and structure and sturdy metal screwcap will hold it for several years. I doubt it will gain much from cellar time, however.
VALUE:
This modern-style Tuscan red is a fine value at Wine-Searcher.com's $12 average U.S. retail and my local $11 price; better still at outlying vendors who offer it for $8 or $9.
WEB LINK:
Santa Cristina offers this information in English on the winery website. The information is also available in Italian and German. For a more detailed fact sheet, click here for a PDF document.
FIND THIS WINE ONLINE:
Check prices and find vendors for Santa Cristina Toscana on Wine-Searcher.com.
Browse Wine-Searcher.com for the Santa Cristina wine portfolio.
Read about Marchesi Antinori, the producer and its wines, at this Wine-Searcher link.
Follow this Wine-Searcher link for more information about Toscana IGT wines, with listings for dozens of wines from the region and vendors.
Wine Focus March 2023 – Benchmarks of Chenin Blanc
Here's a conundrum to conjure with: Why is one of the world's 10 most widely planted white grapes, capable of producing indisputably great sweet wines and excellent dry whites as well, often thought of as a mere "niche" grape, producing wines difficult to find in any but the most well-stocked wine shops … at least where I live?
We're talking about Chenin Blanc, which may reach its zenith in the Loire Valley of France but is grown around the world. Chenin Blanc is the most widely planted grape in South Africa, where it's also known as Steen and is said to make up nearly one-third of the nation's plantings. It's popular in California, where Jancis Robinson says there's more of it grown than in France. South of the Equator, it's popular in Argentina and at least a niche player in Australia and New Zealand.
Perhaps Chenin Blanc's popularity doesn't match its acreage because a good deal of it is industrially grown and ends up in mass-market wines with no real varietal character. Still, Chenin Blanc tends to show some personality even in lackluster wines, in the form in tart, palate-cleansing acidity that makes it a useful player in improving anonymous jug-wine blends.
But taste a few really good Chenin Blancs, and chances are you'll become a convert. Better yet, Chenin makes delicious sweet wines, attention-getting dry wines, and luscious wines that fall in-between. We're looking for benchmarks, though, so for this month's Wine Focus we're zeroing in on the Loire Valley and particularly on the wines of Vouvray and Montlouis, from the epicenter of the Loire Valley in Touraine, not far from the historic city of Tours.
Want to know more? Here's a good article on Vouvray and Montlouis from Decanter.
Or just start opening bottles, tasting, and join us in Wine Focus to start talking about it!
Today's Sponsor: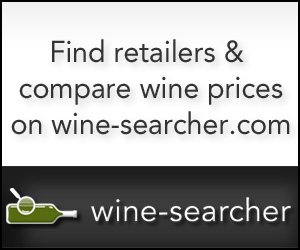 Explore Wine-Searcher
Wine-Searcher.com is the place to go online if you want to find where to buy a particular wine that interests you. What's more, Wine-Searcher.com offers so much more. It's well worth a visit just to discover its many features, including its popular list of the world's Top 10 Best Value Wines.
Good wines we've tried under $10.99!
Want tips to still more good, inexpensive wines? Here are Wine-Searcher links to vendors and prices for a bunch more wines for $10.99 or less that I've told you about in recent years. In some cases the prices may have risen over the $10.99 mark since I reviewed them, but they should still be excellent bargains. Please tell us about your favorites!
Sponsor the Wine Advisor.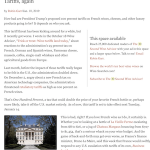 We appreciate your support
Support The 30 Second Wine Advisor and help us pay the rent while reaching 25,000 dedicated readers with your sponsorship message in this space, at the top of this E-letter, and on our social media. If you're an established business in wine, food, and similar ventures, there's no better way to focus your message toward an audience that comes here for just those topics. See our Sponsorship Page, or email Robin Garr for more information.
Wine Forum and Social Media
If you have questions, comments or ideas to share about today's article or wine in general, you're always welcome to drop by our online WineLovers Discussion Group, the Internet's first and most civil online community.
Discussions are open for public viewing, but you must register to post. If you're a Facebook user, you can join our forum with a single click! All you need to do is visit the forum and click "Social Login" at upper right.
We'd also be delighted to have you visit and "like" our WineLovers Facebook Page. This way you can get Facebook notifications when there's a new The 30 Second Wine Advisor issue or a topic of particular interest on the WineLovers Discussion Group (WLDG).