"Come, come, good wine is a good familiar creature, if it be well used." I expect that few of us would disagree with Shakespeare's words in Othello.
---
$1 Shipping Harvest Wine Sale
• Award-winning, handcrafted wines are on sale now for as low as $10.99 at The California Wine Club. There are 20 small-batch wines each priced under $20! Read more below, or shop now!
• This week's paid-tier edition – my report on an impressive Crozes-Hermitage – goes out as a gift to the entire community. Like what you see? Consider upgrading to our paid tier and join us every week! Already a paid subscriber? Thanks so much. You help make this happen. Click here to subscribe.
---
Some 2,000 years before Shakespeare put his inked quill to paper, another great poet – the Greek tragedian Euripedes – set down another simple but deep tribute to the fruit of the vine: "Where there is no wine there is no love."
While Euripides was writing drama, his approximate contemporary Thucydides was setting down history; and he, too, celebrated the importance of wine: "The peoples of the Mediterranean began to emerge from barbarism when they learnt to cultivate the olive and the vine."
A few hundred years later, over in Rome, the poet Ovid expressed a similar affectionate opinion in his Art of Love, declaring that wine "warms the blood, adds luster to the eyes, and wine and love have ever been allies."
Just for fun today, let's venture through many centuries and many cultures to enjoy a few memorable quotes about wine, words worth savoring with a glass at hand or even, depending on your setting and time of day, without one.
By the way, many of the quotes I'll share today came from an outstanding source of more than 150 wine-related quotes, Wine Quotes, from Ceja Vineyards of California's Napa and Sonoma. I commend it to your attention if you just can't get enough words about wine.
Wine quotes can give us very good advice, like this from the Russian emigré turned wine author and Bordeaux château owner Alexis Lichine: "When it comes to wine, I tell people to throw away the vintage charts and invest in a corkscrew. The best way to learn about wine is the drinking."
Be careful, though, because a little knowledge can be a dangerous thing, like this terrible notion presented as sophistication by Ian Fleming's fictional James Bond in Goldfinger …
"… there are some things that are just not done, such as drinking Dom Perignon '53 above the temperature of 38° Fahrenheit." Sorry, Bond, James Bond: There's no better way to stun your taste buds into inactivity than to sluice them with any wine at just six degrees above freezing.
Even less well-known was Bond's equally bad advice in the following sentence, suggesting that he knew little more about music than about wine: "That's just as bad as listening to the Beatles without earmuffs!"
But I digress. Let's have a few more memorable quotes before we get to today's featured wine from the Northern Rhóne, E. Guigal Crozes-Hermitage.
---
(The Wine Advisor continues below this message from our friends at The California Wine Club.)
$1 Shipping Harvest Wine Sale
Award-winning, handcrafted wines are on sale now for as low as $10.99 at The California Wine Club. There are 20 small-batch wines each priced under $20!
All the wines are from small, working wineries, and were handcrafted by artisans who put passion into every bottling. Half, full, and mixed cases ship for just $1, plus $5 for handling, and every wine is backed they their Love It Guarantee.
Don't wait! Wines will sell out quickly.
Shop Now
About The California Wine Club
Since 1990, The California Wine Club has been helping artisan wineries share their small-batch wines. They visit the wineries, meet the families and winemakers behind the wines, and then invite the wineries to share their favorites with wine club members. Recommended by Food & Wine, Robb Report, the LA Times, Bon Appetit, and thousands of happy customers, The California Wine Club has been the #mostloved wine club for more than 30 years.
www.cawineclub.com 1-800-777-4443
---
Great words about wine
(Continued)
Through the ages, writers, artists, and philosophers have often been inspired to opine about wine.
That 18th century master of snark, Dr. Samuel Johnson, once wrote, "Wine makes a man more pleased with himself; I do not say it makes him more pleasing to others."
More seriously, the 20th century author, public intellectual, and radio/television personality Clifton Fadiman set down this thoughtful opinion: "If food is the body of good living, wine is its soul."
And in what may be one of the longest sentences he ever wrote, Ernest Hemingway said "Wine is one of the most civilized things in the world and one of the most natural things of the world that has been brought to the greatest perfection, and it offers a greater range for enjoyment and appreciation than, possibly, any other purely sensory thing."
With more customary brevity, Hemingway also said, "A good day starts with good coffee and ends with good wine."
There's more, much more, perhaps for another day. Today, let's wrap this up with a loving look backward over life in Old Men Forget, an autobiographical reminiscence from the 20th century British politician, diplomat, and historian Alfred Duff Cooper: "Writing in my sixty-fourth year, I can truthfully say that since I reached the age of discretion I have consistently drunk more than most people would say is good for me. Nor did I regret it. Wine has been for me a firm friend and a wise counselor. Often…wine has shown me matters in their true perspective, and has, as though by the touch of a magic wand, reduced great disasters to small inconveniences. Wine has lit up for me the pages of literature and revealed in life romance lurking in the commonplace. Wine has made me bold but not foolish; has induced me to say silly things but not to do them."
Today's Tasting Report
E. Guigal 2018 Crozes-Hermitage ($32.99)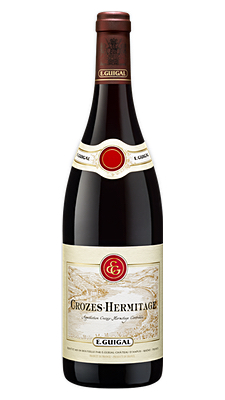 Shades of black rise from this dark reddish-purple Northern Rhône Syrah. E. Guigal Crozes-Hermitage shows deep and brooding scents of blackberries and black cherries, with back notes of black pepper and black olives singing harmony. Full-bodied flavors follow the nose, shaped by fresh, gripping acidity; tannic astringency is present but seems to be resolving in this impressive five-year-old wine. 14.6% alcohol. U.S. importer: Vintus LLC, NYC. (Sept. 14, 2023)
FOOD MATCH: Beef and lamb are the obvious companions with this full-bodied wine. We enjoyed it with Marcella Hazan's thin pan-broiled steaks with tomatoes and black olives, using Beyond Steak Seared Tips as a plant-based alternative.
WHEN TO DRINK: It's drinking very well now, and the importer suggests that it will reward aging under good cellar conditions for 10 years after the vintage.
VALUE:
It's a fair value at Wine-Searcher.com's $32 average U.S. retail, but it's available deeply discounted at some retailers, so look around if you're a bargain hunter.
WEB LINK:
Here's the producer's info sheet in English. For more detailed information, here's a detailed info page from importer Vintus, as well as this PDF tech sheet.
FIND THIS WINE ONLINE:
Check prices and find vendors for E. Guigal Crozes-Hermitage on Wine-Searcher.com.
Learn about E. Guigal and find other wines from its portfolio at this Wine-Searcher link.
Follow this Wine-Searcher link to discover Crozes-Hermitage and browse other wines from the region.
Wine Focus September 2023 –
Benchmarks of Syrah
Our Wine Focus for September turns to Syrah. Northern Rhone, anyone? Hermitage? Côte-Rôtie? Maybe the "humble" St Joseph or Crozes-Hermitage?
Syrah is one of those grapes that gets relatively little respect, yet produces some stunning wines. As with everything, it can be misused, and it can produce some pretty scary wines as well. The Shiraz boom of the late 1990s may very well have permanently tainted one of the most noble grapes in the entire world of wine.
But let's rehabilitate Syrah! Find a bottle that you like, taste it, and loin us in the WineLovers Discussion Group as we talk about Syrah this month.
Find the wines you want
Explore Wine-Searcher
Wine-Searcher.com is the place to go online if you want to find where to buy a particular wine that interests you. What's more, Wine-Searcher.com offers so much more. It's well worth a visit just to discover its many features, including its popular list of the world's Top 10 Best Value Wines.