It's that time again! The annual round of holiday festivity is arriving, and many of us are eager to share good food and drink with friends and family.
---
Please subscribe!
The 30 Wine Advisor is a reader-supported online community. If you enjoy these reports, please consider a paid subscription. You'll get twice as many reports, and you'll help keep us going! If you can't do it, though, don't worry. All are welcome to our basic edition, which will always be free.
---
This means it's also time for my mailbox to start filling up with the annual question: "What wine should we choose with the holiday feast?"
My standard reply starts like this: If you're choosing the traditional roast turkey for the U.S. Thanksgiving Day dinner, this isn't as simple a wine match as you might think. Here's why: Turkey offers both light and dark meat, and those two things are not like each ether. A wine that pairs well with the tender white breast meat may not sing in such beautiful harmony with the dark and earthy notesof turkey leg and thigh meat.
To select a wine that bridges that gap, I think of a familiar holiday condiment: cranberry sauce. Whether you pop it from a can or make it with fresh berries, this jiggly treat goes well with both light and dark turkey meat and most of the traditional trimmings, too; not to mention a festive vegetarian or vegan repast.
The trick? Think about a wine with a similar flavor profile: A good pick would marry fresh fruit with acidity. It may be dry or gently sweet, but the tart component needs to moderate any residual sugar. The good news is that plenty of wines in this style – both red and white – can bridge the wide flavor variations in both turkey and a groaning holiday table.
Try Riesling, Gewurztraminer and Chenin Blanc if you want a white; Pinot Noir, Beaujolais (even the seasonal Beaujolais Nouveau), or just about any red wine with good aromatics and fruit-acid balace. For another approach, consider something bubbly, from a modest sparkler to a fine Champagne as your tastes and budget permit.
Does all of this feel too tiring for a holiday that's supposed to be fun? No worries! We can come at this from a completely different and even easier perspective: Remind yourself that a festive holiday meal with friends and family doesn't call out our inner wine nerd. Sit back and enjoy the pleasures of light and dark turkey, mashed potatoes, dressing, gravy, sweet potatoes, cranberry sauce, white rolls and even green-bean casserole. Wine to go with it? What, us worry?
The holidays are a fine time to try something special that you've been waiting to enjoy. Share it with family and friends without stressing over whether we're properly marrying red wine with red meat, white wine with white.
Consider this week's featured wine, for example. I wasn't even thinking about the holidays when I picked up a bottle of Rio Madre Graciano Rioja. I simply thought this Spanish red would be interesting because it's an offbeat variation on the genre: Rather than the usual Tempranillo-dominant red blend, it's 100% Graciano, a Spanish variety that's usually a minor player in the blend.
Produced by Bodegas y Viñedos Ilurce and distributed by respected importer Jorge Ordóñez, it's made from vineyards – some dating back to 1917 – cared for without the use of chemically synthesized fungicides, pesticides, herbicides, or elemental fertilizers. In contrast with traditional Rioja's aggressively oaky style, this wine is whole-berry fermented with neutral yeast in large concrete vats and stainless-steel tanks, then aged six months in used French barriques that add only minimal oak flavor.
Better still, it's affordable, with U.S. prices ranging from under $10 to the middle teens. And I believe it will go just fine with a holiday feast.
Today's Tasting Report
Rio Madre 2021 Graciano Rioja ($15.99)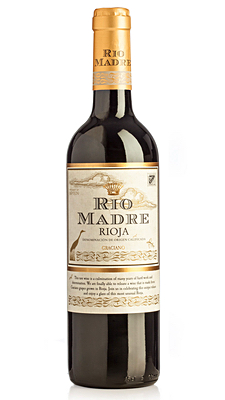 Rio Madre Graciano Rioja is made with 100% Graciano. Dark garnet in color with a clear edge, it presents appealing blackberry and plum aromas with a distinct back note of pomegranate. The flavor is luscious with black fruit framed by a firm acidic structure and gentle but persistent tannins. Subtle hints of black pepper, black olive, and a whiff of orange peel make their way into a very long finish. Its potent 14.5% alcohol doesn't show itself as harshness or heat. U.S. importer: Fine Estates from Spain Inc., Jorge Ordóñez Selections, Dedham, Mass. (Oct. 16, 2023)
FOOD MATCH: It would be a natural with leg of lamb or roast fowl, and would not be amiss on the table for a holiday feast. It went very well for us with a simple tortilla espanola filled with thin-sliced potatoes and onions gently fried in plenty of olive oil.
WHEN TO DRINK: Single-varietal Graciano doesn't have a significant record for aging, but its intensity and balance suggest that it isn't going to fall apart in the short to medium term at least.
VALUE:
My local price came in on the high end compared to Wine-Searcher.com's $12 average U.S. retail, with some retailers reporting prices under $10. It's a spectacular value at those bargain prices, but it's so good that the middle teens into the $20s would still be a justifiable price.
WEB LINK:
Here's an extensive fact sheet from distributor Jorge Ordóñez Selections.
This link will take you to an English-language Rio Madre fact sheet on producer Bodegas y Viñedos Ilurce's website. Click here to view the producer's brief and informative YouTube video in English about Graciano.
FIND THIS WINE ONLINE:
Check prices and find vendors for Rio Madre Graciano Rioja on Wine-Searcher.com.
Check this Wine-Searcher link to read about Graciano and find wines made from the grape.
Read more about Rioja and find links to vendors and prices at this Wine-Searcher link.
Wine Focus November 2023 –
Benchmarks of Riesling
It's finally time! Our Riesling-loving team has been waiting all year for Wine Focus for November: Benchmarks of Riesling.
So many memorable manifestations of this great grape! Mosel, Nahe, Pfalz. Does anyone still remember the Rheingau? How about Austria? Australia? Has anyone heard from Alsace lately? Open a bottle, take a note, and head for our WineLovers Discussion Group to talk about Riesling!
Find the wines you want
Explore Wine-Searcher
Wine-Searcher.com is the place to go online if you want to find where to buy a particular wine that interests you. What's more, Wine-Searcher.com offers so much more. It's well worth a visit just to discover its many features, including its popular list of the world's Top 10 Best Value Wines.
Good wines we've tried under $10.99!
Want tips to still more good, inexpensive wines? Here are Wine-Searcher links to vendors and prices for a bunch more wines for $10.99 or less that I've told you about in recent years. In some cases the prices may have risen over the $10.99 mark since I reviewed them, but they should still be excellent bargains. Please tell us about your favorites!
Sponsor the Wine Advisor.
Support The 30 Second Wine Advisor and help us pay the rent while reaching 25,000 dedicated readers with your sponsorship message in this space, at the top of this E-letter, and on our social media. If you're an established business in wine, food, and similar ventures, there's no better way to focus your message toward an audience that comes here for just those topics. See our Sponsorship Page, or email Robin Garr for more information.
Wine Forum and Social Media
If you have questions, comments or ideas to share about today's article or wine in general, you're always welcome to drop by our online WineLovers Discussion Group, the Internet's first and most civil online community. Discussions are open for public viewing, but you must register to post. To request registration, please contact me at wine@wineloverspage.com, tell me your name, mention the Wine Advisor, and briefly say why you'd like to participate in the forum. Sorry about the minor red tape, but this is our simple, low-tech way to deter spammers and bots.
We'd also be delighted to have you visit and "like" our WineLovers Facebook Page. This way you can get Facebook notifications when there's a new The 30 Second Wine Advisor issue or a topic of particular interest on the WineLovers Discussion Group (WLDG).