Today is the first full day of summer, and the weather is playing its role, punctuating days of soggy heat with occasional noisy thunderstorms.
Also, World Cup is under way! Sure, it's been hot for the past month or two, but now we're moving into the lazy, hazy, steamy and even oppressive days of summer. Now, more than ever, it's time for the cooling pleasures of rosé wine.
Rosé has certainly had its detractors. During the age of White Zinfandel and other sweet, simple "blush" wines, rosé was easy for anyone who enjoys good, interesting wines to ignore. Even better rosés, like those from Provence, often felt like a less-than-satisfactory compromise, a brief way station but not really a stopping point between the lures of full, interesting reds and crisp, tart, food-friendly whites.
But the world of rosé is changing, and renewed interest in quality rosé has fostered a renaissance, not only in France but around the world. With a little research and a good wine shop handy, it's now easy to find good rosés that are fresh, food-friendly, and distinctly interesting in their own right.
In our WineLovers forum's Wine Focus on rosé this month, we're open to all the world's pink wines. In the last Wine Advisor I offered tasting reports on two excellent rosés from France's most traditional pink-wine regions, Provence and the Southern Rhône.
Today let's talk about two more from a bit farther afield: A rosato from Tuscany, home of Italy's iconic Chianti, made from Chianti's Sangiovese grape; and a pink sparkling Cremant from Bordeaux, made from 100 percent Cabernet Franc. Both these wines are fresh and balanced, subtle but distinctly flavored, good sipped on their own on a steamy summer day – or, perhaps, while watching a World Cup match – or, perhaps best of all, paired with appropriate food.
You'll find my tasting notes below. Meanwhile, why not open a bottle of rosé over the weekend? If you do, I hope you'll consider dropping by the WineLovers forum to tell us about it! Your comments, tasting reports and questions are welcome at Wine Focus for June 2018: Rosé!, or as a post on our WineLovers Facebook Page.
Today's Sponsor:
Wine Grape Varietal Table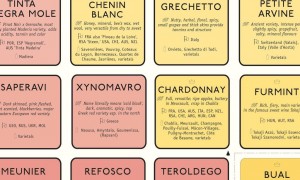 Remember studying the Periodic Table of the Elements in high school? You won't need to struggle with Steve and Deborah De Long's Wine Grape Varietal Table. A wine reference disguised as a fine-art print, it looks like the chemical table but replaces the elements with a world of wine grape varieties: 184 of the world's favorite grapes organized by body and acidity, clearly showing how they relate. Buy one for a friend, or for yourself! The Wine Grape Varietal Table is $25. Click here to order now.
The De Longs also produce stunning, quality poster-size wine maps of France, Italy and other regions for $14.95 to $29.95. Click here to view and order any of the De Long wine maps.
Today's Tasting Reports
Calvet 2015 Crémant de Bordeaux Brut Rosé ($16.99)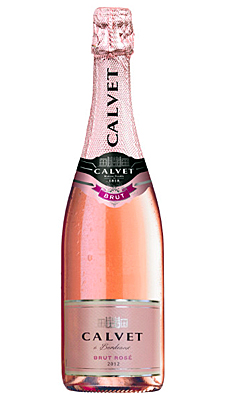 This clear, pale copper color rosé wine is made in Bordeaux from 100 percent Cabernet Franc grapes. It pours up with a thick, frothy white mousse that falls back to reveal a shower of tiny bubbles that diminish with time in the glass. Mixed fruit aromas offer hints of apple, pear and strawberry with light 11.5% alcohol, leading into a prickly, dry flavor of light red berries that hangs on in a long finish. U.S. importer: Calvet USA, Miami. (June 21, 2018)
FOOD MATCH: Fine by itself or with salads; it was a delight with a simple, summery chicken salad with celery, walnuts, red bell pepper and a hint of curry flavor.
WHEN TO DRINK: I don't see any sense in keeping rosé. This three-year-old is hanging in there just fine, but drink it, don't stash it in a cellar.
VALUE:
It's a fine value in the middle teens, like my local price and Wine-Searcher.com's $17 average retail.
WEB LINK
Here's a fact sheet from U.S. distributor Calvet.
FIND THIS WINE ONLINE:
Find vendors and compare prices for Calvet Crémant de Bordeaux Brut Rosé on Wine-Searcher.com.
La Spinetta 2017 "Il Rosé di Casanova" Toscana Rosato ($19.99)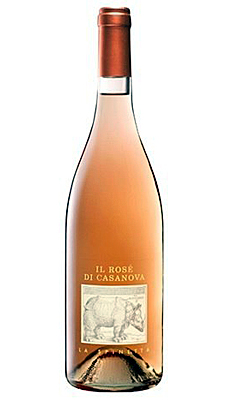 Very pale, pretty pink, the color of a light pink rose. Light, subtle, but clean and fresh cherry and berry aromas lead into a surprisingly bold flavor, tart and palate-cleansing, with zippy dried-cherry and cranberry flavors lasting into a very long finish with moderate 12.5 percent alcohol. A blend of equal parts Sangiovese and Prugnolo Gentile, itself a form of Sangiovese grown around Montepulciano in Tuscany. U.S. importer: Indigenous Selections LLC, Fort Lauderdale, Fla. (June 11, 2018)
FOOD MATCH: As with most rosés, it's fine on its own or as a partner with summer salads and hors d'oeuvres. I like them also with hot-and-spicy dishes. This one went very well with a more substantial dinner of Beyond Meat hot Italian sausages over pasta in a fresh tomato sauce.
WHEN TO DRINK: Best over the next year or two; rosé is not for cellaring.
VALUE:
I paid a few bucks over Wine-Searcher.com's $17 average retail, but I'm not complaining too badly about this price tag for a fine Italian rosato.
WEB LINK
Here's a La Spinetta Rosato fact sheet on the web page of Skurnick Wines, another importer.
FIND THIS WINE ONLINE:
Check prices and locate vendors for La Spinetta "Il Rosé di Casanova" on Wine-Searcher.com.
More affordable wines
Want tips to more good, inexpensive wines? Here are Wine-Searcher links to vendors and prices for a bunch more wines for $10 or less that I've told you about during the past few months. Please tell us about your favorites!
Wine Forum and Social Media
If you have questions, comments or ideas to share about today's article or wine in general, you're always welcome to drop by our online WineLovers Discussion Group, the Internet's first and most civil online community.
Discussions are open for public viewing, but you must register to post. If you're a Facebook user, you can join our forum with a single click! All you need to do is visit the forum and click "Social Login" at upper right.
We'd also be delighted to have you visit and "Like" our WineLovers Facebook Page. This way you can get Facebook notifications when there's a new The 30 Second Wine Advisor issue or a topic of particular interest on the WineLovers Discussion Group (WLDG).
Subscriptions and Administrivia
Unsubscribe:
We're sorry if you must leave us, but simply click the "unsubscribe" link at the bottom of your Email edition to be instantly removed from the mailing list.
Change address:
The quickest and easiest way to change your email address is simply to unsubscribe from your old address and register again from the new one: Subscribe to The 30 Second Wine Advisor (free).
Archives:
Read nearly 20 years of past articles in the Wine Advisor Archives.
Sponsorship Opportunities:
For information, email Robin Garr at wine@wineloverspage.com